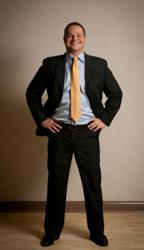 It is our unique blend of successful treatments that gets us such amazing results.
Louisville, KY (PRWEB) January 08, 2013
Kentuckians in search of a Louisville Chiropractor this January should look no further than Dr. Shawn Martin's state of the art office. "It is our unique blend of the most successful treatments of back pain that gets us such amazing results," says Dr. Martin. By all accounts and measures Dr. Martin is right...his office is full of smiling patients during our midweek 5:00pm interview at his office.
"Dr. Martin provides you the opportunity to get multiple types of healthcare under one roof. This provides our practice members with an chance to save time and money while maximizing benefits," says front office coordinator Katie Crowe. During our short 10 minutes in the office one patient said that what they like the most about Louisville Chiropractic and Rehab is that they do their best to ensure you are not in the office any longer than you need to be. "I tried a local PT office one time and they had me in there for an hour and a half doing basic stretches I could have done at home...and charged my insurance $250 for it! I couldn't believe the waste of my time. That doesn't happen here," said the patient. This patient said they found Dr. Martin through a friends link to their Google Plus profile.
Those interested in seeing if Louisville Chiropractor Dr. Shawn Martin can help please click here for our hours and location.
-Louisville True Health