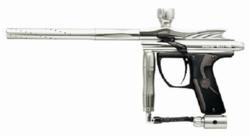 Buy one today or lose out
Morgan, Utah (PRWEB) January 08, 2013
Action Center announces last call on these exclusive paintball guns, The Kingman spyder Electra titanium factory refurbished on sale for $99.99, and the Autococker trilogy competition select fire black.
15 Spyder Electra paintball markers left at the time of this release. Spyder has been making paintball guns as long as about any manufacturer, and their experience is starting to show in their new guns. Newer Spyders are not only faster, lighter, easier to care for and more reliable, but they are cosmetically superior to about anything else in the price range. The Electra now comes with eyes to reduce chopped balls, and an improved Tadao circuit board to give you improved modes of firing.
Spyder has a good reputation for intermediate-level paintball guns and the Electra seems to be indicative of Spyder's improving quality. The Spyder Electra is a good electromechanical paintball gun for those that want to shoot fast but still want to be able to shoot with CO2. It's a good introduction to electromechanical paintball guns.
The Trilogy is WGP's entry-level paintball gun intended to fly on the coat tails of the legendary Autococker line of paintball guns. While the Trilogy competition doesn't warrant comparison to the "true" Autocockers, it does hold its own as an entry-level gun costing less than $100 or as a package with a CO2 tank, mask and hopper for around $180. The Trilogy is no longer being produced but it is still very commonly available and WGP continues to offer support for it. Currently, there are about 15 left at the time of this release.