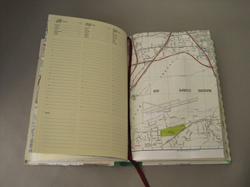 San Francisco, California (PRWEB) January 08, 2013
Re-use. Re-purpose. Re-joice. Turn an old book into into something new and useful. The San Francisco Center for the Book is excited to announce a great new bookbinding course – Juliayn Coleman's Upcycled Daybook workshop. This creative session will teach bookbinding skills and techniques to transform an old hardcover book into a creative day planner calendar.
Participants will learn how to disassemble a book, leaving its signatures mostly intact, and interleave the signatures with calendar paper. Attendees will be encouraged to share signatures with other students for variety. Learn how to strengthen the cover and sew the textblock into the old case to make a creative and unique calendar that can be used all year.
Instructor Juliayn Coleman is a bookbinder and book conservator relocated to San Francisco from the American Midwest. She encourages you to avoid slacking off today. "Do as much as you can".
She describes the Upcycled Daybook workshop as "...an artist's book class with a conservation-focused twist. The class will be using letterpress printed calendar pages (printed by Juliayn herself on Mohawk Superfine text, with handset type) to make a week-at-a-glance calendar. For the front and back, the class will be using the covers from lovely and adorable (though not rare) children's books, using techniques used in a standard cloth re-back technique to safely disbind and put back together into a cute calendar that will be a pleasure to have with you all year long. 'Cause you made it!"
This course takes place at the San Francisco Center for the Book on Saturday, January 19, 2013 from 9:30 – 5:30. For more information and to register go to https://sfcb.org/civicrm/event/info?id=915&reset=1
About Juliayn Coleman
Juliayn Coleman has been a professional bookbinder since her graduation from the North Bennet Street School bookbinding program in 2003. Her private practice encompasses all levels of book repair and conservation, custom portfolio and enclosure making, teaching, and being a good ambassador for the craft of bookbinding in general. Some of her creative and professional projects can be seen at http://www.bookislandbindery.com.
About the San Francisco Center for the Book
The San Francisco Center for the Book fosters the joys of books and bookmaking, the history, artistry, and continuing presence of books in our culture and enduring importance as a medium of self-expression. We provide both a home for Bay Area book artists and a place where the wider community can discover book arts. Everyone is welcome here, experienced practitioners and newcomers alike. Over 300 workshops annually offer learning at all levels: from introductory to focused advanced courses spanning traditional bookbinding, cutting-edge printing techniques and experimental book forms. Exhibitions are designed to inform and inspire visitors. Free public programs include opening receptions for the exhibition program, poetry readings, book release parties for our publications, gallery talks, Open Houses and other community events like the annual Earth Day Extravaganza and Roadworks Street Fair.