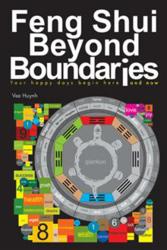 The inner world is governed by several factors including our mental state of health, like attitudes and quality of thoughts
SAN GABRIEL, Calif. (PRWEB) January 09, 2013
In his new book "Feng Shui Beyond Boundaries: Your Happy Days Begin Here and Now" (published by iUniverse), author Vee Huynh helps readers unleash the power of their pure potential while tapping into the powerful energy of the universe which he says is sitting idle inside everyone.
Huynh contends that the true power of Feng Shui is contained within all people. He says the energy (chi) in the universe and the energy inside a person must be in harmony to experience good health and what he calls "life's many invaluable treasures."
"Feng Shui Beyond Boundaries" guides readers, using powerful ancient wisdoms and methods, to identifying their negative and positive energies, such as their emotions, habits, lucks and environmental influences. Huynh teaches people to locate and harness only high quality chi to their benefits while avoiding those which may be harmful.
Huynh believes understanding the concepts in "Feng Shui Beyond Boundaries" will help readers find happiness, but he also believes it will help them attain better physical health. "The inner world is governed by several factors including our mental state of health, like attitudes and quality of thoughts," he explains. "The physical world is the reflection of what was inside our heart and mind. In addition, our physical health is the result of prolonged conditions."
"Feng Shui Beyond Boundaries"
By Vee Huynh
Hardcover | 6 x 9in | 202 pages | ISBN 9781475962161
Softcover | 6 x 9in | 202 pages | ISBN 9781475962154
E-Book | 202 pages | ISBN 9781475962178
Available at Amazon and Barnes & Noble
About the Author
Vee Huynh has worked as an architect's assistant and freelance designer since earning his degree from California's Woodbury University in 1993. His own pursuit of happiness has inspired a decade-long study of Feng Shui, as part of his exploration of other ancient philosophies. He is married and has two children.