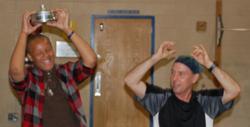 "Jedlie's annual visits to our school have helped us to create a safe and caring learning environment."
Mr Kirk Tower, Principal, Thornburg Middle School, Thornburg, VA
(PRWEB) January 08, 2013
For the first time ever schools in Western Pennsylvania and Ohio will have an opportunity to host the interactive School assembly program "We Will ROAR - Respect Others, Accept Responsibility." Since August 2012, this exciting program has motivated over 50,000 students from Augusta, Maine to Orlando, Florida to practice kindness and stand up for each other.
"We Will Roar" is an interactive event focused on helping kids develop positive attitudes and respect for themselves and others. The program is presented by Jedlie Circus productions, a leader in producing character education assemblies for schools and churches. The program was written and created by former social worker Jed Doherty, also known as Jedlie.
Throughout the assembly, Jedlie highlights the role of the bystander in bullying situations and teaches kids how to best navigate teasing and bullying among peers. Jedlie used positive reinforcement, storytelling, music, comedy and magic to help audiences connect with each other and get excited about their learning.
This exciting interactive school assembly is adaptable to be appropriate for students from preschool through grade eight.
We Will ROAR is scheduled to come to Western Pennsylvania and Ohio March 11 - 22. Interested parents and educators can learn more by visiting the web site http://www.wewillroar.com and by calling 800-231-1879