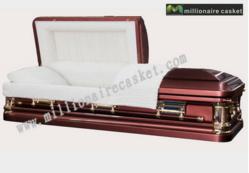 (PRWEB) January 08, 2013
Today, MillionaireCasket.com, a professional casket supplier, adds 3 items to its metal casket collection to expand its production line, and develop its market share as well.
These new items come with a special locking system that makes the metal caskets difficult to open once it has been closed, and they are specially designed and developed to replace traditional wood caskets for various applications.
Zoe Wong, CEO of the company, said, "Our metal caskets are 100% manufactured with the high-quality craftsmanship and materials. They are made from a variety of metals, and available in different colors, thickness and weight. In addition, we provide OEM service to those who need 32", 34", or 36" oversize caskets. Please contact us for more details."
"We have much experience in the casket industry, and can help each person who would like to buy a casket online. If customers cannot find their styles or sizes in our catalog, please don't hesitate to contact with us, and we will not let you disappointed." Continued, Zoe Wong.
In addition, MillionaireCasket.com is launching a promotion for all its casket products, including metal caskets, wood caskets, oak caskets, and so on. Any order placed within this month can get a discount.
About MillionaireCasket.com
MillionaireCasket.com is a leading casket company from China, and focuses on the business of casket wholesale. They provide an exquisitely crafted line of all kinds of metal caskets, solid wood caskets, veneer caskets, cremation caskets, rental caskets, orthodox caskets, infant or over-sized caskets and European style coffins.