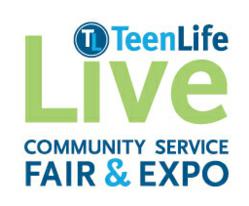 Marie Schwartz, founder of TeenLife comments, "By engaging in volunteer work, teens have an opportunity to learn experientially. They discover where their passions lie while undertaking meaningful work that may impact their college and career path."
Boston (PRWEB) January 14, 2013
Many middle and high school students are required to complete up to 40 hours of service work to graduate -- and taking action in their community can also boost their competitive edge in the college application process. In addition, volunteering as a teenager helps students gain benefits ranging from independence and increased self-esteem to also acquiring critical job skills. However many students have a hard time finding opportunities to "give back" if under 18 that match their schedules and interests.
TeenLife's 6th annual TeenLife LIVE! Community Service Fair & Expo at The Mall at Chestnut Hill on February10th from 12 to 4 p.m. will connect more than 1,200+ students, parents, and teachers with 50 local non-profits in Greater Boston that specifically take teens. Also present, will be programs offered by Sponsors for college-bound teens.
"Teens who volunteer learn experientially. They discover where their passions lie while undertaking meaningful work. These experiences help them make more informed choices about college and career options as well as instill a lifelong interest in giving back," says Marie Schwartz, president and founder of TeenLife.
For expedited check-in, students can pre-register at
https://www.teenlife.com/pages/teenlife-live-boston to receive advance information and expedited. Attendees will also receive a digital 2013 Guide to Community Service in Boston, which features 200+ more organizations.
Non-profits exhibitors include: DoSomething.org, BodiMojo, Melanoma Foundation of New England, Families for Depression Awareness, Boston Cares, City Year, Easter Seals, Samaritans, Birthday Wishes, and more.
Sponsors and Supporting Exhibitors include: College Board, Test Rocker, The Experiment in International Living, The Bridge at The Family Foundation School, British School of Boston, College Confidential, Hobsons Educational Advances, Wildlife Ecology Research, Internship Connection, SYA (School Year Abroad), Sustainable Summer, and Travel For Teens.
About TeenLife Media, LLC:
TeenLife Media is a comprehensive source for parents, educators, advisor, and teenagers nationwide who are seeking programs and services for college-bound students in grades 7 - 12. Our award-winning website, e-newsletters, publications, and signature events feature thousands of enrichment opportunities that "bring out the best" in teenagers. Access to all of our resources is free at http://www.teenlife.com.