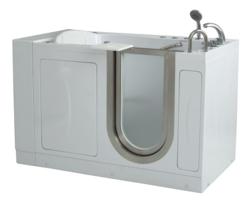 Our New Years sale went so great, we thought we should extend it for the rest of the month and continue the huge savings on walk in bathtubs
Denver, CO (PRWEB) January 09, 2013
One of the top national suppliers of walk in bathtubs, Aging Safely, has announced that they are extending their New Years Sales event until the end of January 2013. The company will be offering special discounts on senior bathtubs, handicap grab bars and roll in showers for this limited time sales promotion.
Aging Safely Walk In Bathtubs only sells the highest quality products on the market, several of which are certified by third party organizations that assist in ensuring quality standards are met by manufactures. Aging Safely carries numerous ADA compliant products as well, such as walk in showers with built in padded seats, hydrotherapy tubs and internal grab bars.
One of the many challenges for the aging population is mobility, especially in the bathroom area, where senior citizens can become victim to dangerous falls. It is recommended for those that are taking on aging in place by staying in their home longer, to highly consider adding a walk in bathtub. Dependent upon the many variables, often it can be less costly to update the bathroom with a walk in tub and safety grab bars, than to pay for the high costs of long term care.
There is no perfect solution to bathroom safety, and no matter how prepared one is, there is always a chance a dangerous fall could happen. However, there are numerous resources available for seniors. Aging Safely Walk In Bathtubs caters to the aging population by offering a diverse mix of senior products, information and resources on walk in tubs, and other ADA compliant products.
Also several of Aging Safely's walk in tubs come with warm air hydrotherapy. This homeopathic therapy can be enjoyed in the comfort of home and is used all over the world. This unique technology can potentially help alleviate symptoms to numerous ailments. Aging Safely recommends scheduling a visit with the family doctor to ensure candidacy for hydrotherapy. Seniors everywhere suffer from arthritis, diabetes, lumbago, restless leg, aches and pains, and are looking for natural ways to manage wellness. Many of whom can potentially benefit from a hydrotherapy walk in bathtub.
The company will be offering deep discounts for this Sales Event that will range from 10% up to 35% off of walk in tubs. For shoppers in need of a roll in shower, this is the perfect time to buy. Aging Safely will be offering savings on roll in showers over 15% off of normal retail prices.
According to Aging Safely Walk In Bathtubs, there are numerous types of walk in tubs. They come in several shapes, sizes and configurations. Options for these unique products can be customized to the exact preference of the bather. Adding air jets, internal grab bars, ensuring optimal seat height and tub width are a few examples of the customization available. Aging Safely specialists offer no obligation consultations and are available to answer any questions regarding senior bathtubs.
Contact Information:
Zach Wennstedt
1-888-779-2284
info(at)agingsafelybaths(dot)com