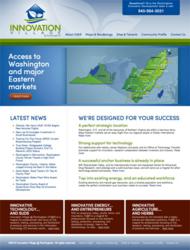 Innovation Village at Rockingham is a 365-acre, Class A master planned village located along the I-81 corridor in the Harrisonburg, Virginia Metropolitan Area.
Harrisonburg, Virginia (PRWEB) January 09, 2013
Rockingham County Economic Development is pleased to announce the launch of the website for research and technology park, Innovation Village @ Rockingham (IV@R). The website address of the new website is http://www.ivatr.com.
IV@R is a 365-acre, Class A master planned village. It is located along the I-81 corridor in the Harrisonburg, Virginia Metropolitan Area. The tech park is within a two-hour drive of Washington, D.C. The robust transportation network, which also includes convenient access to I-64 and I-66, puts two-thirds of the U.S. population within a one-day drive, making product distribution efficient and cost-effective.
Future development will comprise office, laboratory, and light advanced manufacturing space as well as flexible, multi-use buildings, pedestrian trails, picnic areas, and a venue for concerts and events, providing ample space, facilities and opportunities for work and for recreation.
Utilities, including electricity, water, and natural gas, are already in place, and access to fiber optic technology is available.
Scientists, researchers, and entrepreneurs can also draw upon a diverse pool of resources and talent. This includes a strategic partnership with James Madison University and its Office of Technology Transfer.
The Village has already attracted high-profile tenants. Independent research institute SRI International established its east coast campus, SRI Shenandoah Valley, at the tech park in 2009. SRI Shenandoah Valley and its internationally acclaimed Center for Advanced Drug Research operate a 40,000-square-foot research facility on a 25-acre campus in IV@R.
The County's vision is that IV@R will become the region's premier high-tech and biotech hub. In order to market the park more aggressively, the Economic Development team decided to create a dedicated website for IV@R. Previously, information about IV@R was housed on a single page on the Economic Development website.
The new website includes the following information and features:
+ Expanded and updated content
IV@R's online presence has expanded from a one-page "teaser" to a multi-page experience. Site selection consultants and prospective tenants now have access to a wealth of information on critical topics such as transportation, utilities, permitting, taxes, incentives, demographics, education and workforce training, and labor statistics. Various data reports and publications may be downloaded directly from the website.
+ Expansive library of maps, renderings, and photography
Website visitors can see IV@R "today" as well as the long-range plan. A master plan and other supporting maps are provided. There is also photography of The Village and SRI Shenandoah Valley.
The website offers an interactive "flyover," too, which takes visitors on a virtual tour of the three development phases that are planned.
+ Detailed Site Specs
It is very easy for prospects to find information on available property and business opportunities, with the inclusion of a "Sites & Tenants" hub on the website. This section includes details on:

Available Sites, which range in size from 10 – 40 acres and can be combined or reconfigured to meet a company's needs.
Target Industries, which include Life Sciences, Energy, Information Technology, and Agriculture and Crop Science.
About Rockingham County Economic Development
Rockingham County Economic Development promotes Rockingham County, Virginia as a prime location for starting or growing a business. Economic Development's mission is to increase the County's tax base and create new jobs for our citizens. We achieve this by promoting the expansion of existing businesses while also marketing opportunities for new business investments.
Nestled in the heart of the Shenandoah Valley, Rockingham County is part of the Harrisonburg Metropolitan Area in west central Virginia.
For more information, visit http://www.yesrockingham.com.