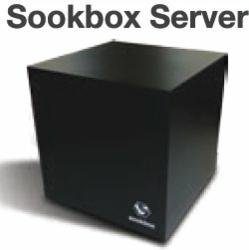 The Sookbox: The "Personal Cloud"
Cambridge, MA (PRWEB) January 09, 2013
Today, Sookbox officially unveiled its framework, introducing the world to the post-PC era of media management.  The Sookbox empowers users to store all of their media (movies, tv shows, music, photos) to be played on any television and stereo system in your home, with the additional capability of launching a web browser to surf the web from your television as well as run other media applications.  
Cambridge-based Sookbox, brings a fresh look to the cloud. "We want devices to do what they are best at doing," says founder Dave Sukoff. "Movies should be watched on a TV, not a laptop. Music should be listened to through an amp and speakers, not computer speakers. And the remote control for everything should be your smartphone or tablet." The problem is that communication between these media outlets is difficult and onerous.
Our solution allows users to create a single collection of media from everywhere, store that collection locally, access it globally, and connect multiple entertainment devices so that every product (whether a home theater or a car stereo) can do what it does best.
More than streaming. More than the current industry standard for content control. Sookbox goes beyond all other products in the market with our unique, patent-pending products and implementations that provide users with seamless multi-directional feedback for control of content.

The Sookbox: The "Personal Cloud"
IP-addressable command server that hosts all media, connects to multiple devices, and serves up content on command wherever the user may be.
Application Platform: Cross-Platform "Magic"
Unique software that manages content control, enabling a user to send commands via a smart device and send selected content to appropriately chosen destinations. Allows for customer personalization and zone control.
Stream Runner™: The "Universal Connector"
More than standard wifi or Bluetooth, this IP-enabled device boasts 2-way communication, serving content from anywhere (including the "Personal Cloud" on a user's Sookbox) to the desired output.
The core of the product, the software of the cloud server, is a revolutionary type of web app development platform.  "We've been roped into a world where our content and our controls are in the same place. Your YouTube video controls are right next to the video and your back button is across the browser. Sookbox transcends that paradigm. We say that our TVs are best for video, our speakers are best for sound, and your iPhone is best for control," says CTO Cyrus Vafadari. Now that we are thinking about the cloud as divided by user, it makes sense to serve multiple, different sites from a single web app.
This is a new paradigm.
"We believe in a personal cloud. Personal meaning you own it personally, but also it is tailored to the user. The cloud should be divided by user, not by device or by service," says Sukoff. "We open a new layer between the other cloud services and the user that makes the experience personal and meaningful."
Meet the Sookbox at CES 2013 in Eureka Park The Venetian Hotel Level 3 : Booth #74102.
Learn more at: http://www.sookbox.com
http://www.facebook.com/sookbox
http://www.twitter.com/thesookbox