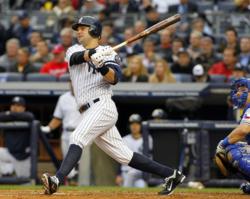 Danny is a veteran
San Diego, CA (PRWEB) January 09, 2013
After much speculation and anticipation about who will land free agent Nick Swisher, it is official – agent Dan Lozano negotiated a $56 million deal for Swisher with the Cleveland Indians. No doubt many teams were interested in the switch-hitting outfielder, who is known for his powerful swing, stellar on-base percentage, and ability to drive in runs. He knocked in 93 of them last year with the New York Yankees, while also posting a .272 batting average and 24 home runs. His utility in the outfield is formidable, as this is truly New York's loss, and Cleveland's gain.
Nick Swisher, along with his wife, actress JoAnna Garcia, were given a first-class tour of Progressive Field, it's facilities, and field. Escorted throughout the process by sports agent and president of MVP Sports Group, Dan Lozano, the Swishers were treated to dinner with various members of major Ohio sporting groups; such as the Ohio State Buckeye's own Urban Meyer. Jim Tressel, former coach of Swisher's alma mater – OSU, was in attendance and relayed his own excitement at the prospect of a Buckeye coming home to play for the Indians. Lozano also arranged face time with new coach Terry Francona, Indians owner Paul Dolan, and other influential members of the Indians staff.
Dan Lozano, having negotiated record setting contracts for the likes of Mike Piazza and Albert Pujols, has now put into place what may be one of the most meaningful contracts in some time. While players today can demand lavish riders on contracts already pushing $20 million per year, Lozano's negotiation of the Swisher deal allows a Columbus native to come home and work to move the home team into post-season contention. With some staffing changes behind them, the Indians are looking forward to improving their record from 68-94 to one that will give them playing time beyond the regular season. Looking at the home versus road stats from last year, it is evident that the Indians like to play at home and have a fan base that do an admirable job of cheering on their local club. Having experienced this same phenomenon with the NY Yankees, Lozano understands that Swisher will have a huge impact with his new team and fan base.
Lozano and Swisher have a lot in common. Both deeply involved in charity work, they know that to serve others elevates one's life. Swisher has been involved in Wounded Warrior and Pantene Great Lengths (a charity that works to provide natural wigs to cancer patients). Lozano has spent time working with the Pujols Family Foundation which serves to help those with Down's syndrome and their families. This new contract for Swisher will enable him to re-connect with his roots. Swisher, being an Ohio native and OSU alum, is personally responsible for the new turf at the OSU baseball field. What a coup to be able to not only help move the Cleveland Indians to greatness in 2013, but to be able to do it within two hours drive from his hometown. Dan Lozano coordinated and sealed what will most likely be the most memorable and gratifying time in Nick Swisher's career, as the Cleveland fan base loves to cheer on a fellow Buckeye.