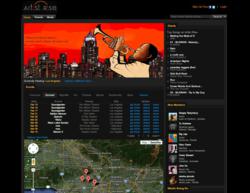 Los Angeles, CA (PRWEB) January 15, 2013
-- Artist Rise Inc. announces the launch of new website ArtistRise.com, redefining the experience for users to discover events and music from around the world. The new site offers a rich interface and social features that enable users to find local events and connect with people nearby who are also attending. The Artist Rise community helps artists showcase their music and book concerts online while also helping event promoters market directly to fans.
The Artist Rise homepage serves as a "snapshot" of what's happening in a particular city by displaying events, artists and member activity. When first visiting the site, a user will select their "home city" but has the option to view different cities from around the globe. Each city page acts as a gateway to discover further content and engage the community. For example, a user can view a specific concert event page, buy tickets, find someone nearby who's also attending, check out the performing artist's profile, post a comment and then click a link to buy the song from a third party site.
All site content is created by members. From concerts to theatre, from professional recordings to demos, discovery is made simple and everything is organized by location. AR is 100% free and artists can post original music and anyone can post events. Artist Rise creates a global network that enables performing artists, event promoters, venues and fans to interact, promote, book shows online and collaborate through local connection.
"Every band should join Artist Rise solely for the booking system," said Johnny V, a Los Angeles based artist manager. "Even if a band has no representation, AR provides a means to receive performance offers. They can be as complex as booking tour support or a simple house party gig. Within a few clicks, the offer arrives in the band's AR inbox and is copied in an e-mail for the band, their manager or agent to review. It's free and effective".
Artist Rise has initiated marketing efforts in New York, Los Angeles and London and is actively rolling out additional cities worldwide. Artist Rise Inc. is a private Los Angeles based company founded in 2007.
Artist Rise Inc. | ArtistRise.com