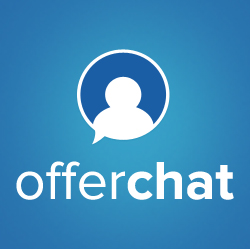 A real-time customer service tool that allows customers to multi-task will be much in demand for businesses large and small.
Salt Lake City, UT (PRWEB) January 08, 2013
If there's one common goal among all businesses of all shapes and sizes this 2013, it is to strive for excellent customer service. Online retail hosted in Shopify and Magento platforms can widely benefit from a customer-facing support tool and get ahead of the competition without the need of a hefty budget allocation.
The latest live chat widget released by Offerchat is especially made for Shopify sites and puts live chat support in the forefront as the most effective customer-facing tool for online retail stores.
The Offerchat live chat support tool allows one-on-one customer chat to allow e-retailer websites to receive visitor inquiries and provide assistance right when a customer needs it. The chat support tool for online retail stores can be added to Shopify websites by inserting a snippet of code automatically generated once an account is created during signup.
The chat support tool for customer use is fully customizable, allowing entrepreneurial websites to have a front-facing live chat widget that the site's appearance. Customer service representatives can monitor and assist customers from a web based client chat panel that can manned from any web browser.
Adding a live chat to e-tailer websites and using it for first-level customer support has become a trend for the last couple of years and is projected to become mainstream this year as ecommerce continue to grow exponentially with online shopping gaining unprecendented popularity due to consumers being connected to the web almost 24/7, with the social, local and mobile aspects of marketing being put to focus.
As e-retail or online retail becomes mainstream in 2013, a real-time customer service tool that allows customers to multi-task will be much in demand for businesses large and small. Business owners can get the chat support tool by Offerchat by going to http://www.offerchat.com/.
About
Offerchat is a free premium live chat for websites specifically designed to help online businesses increase their conversions and sales. It's easy to add chat widget with full features that's 100% free. Offerchat is brewed to perfection at Click Labs, Inc. a company based in Cebu City, Philippines. The company specializes in driving search marketing and social media traffic, social web app development and conversion optimization. Each product or service specifically helps small/medium website owners increase online visibility and improve online sales.