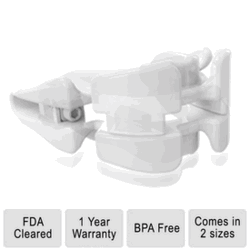 My wife says I don't snore at all now!
New York, NY (PRWEB) January 10, 2013
It's that time of year again. New Year's resolutions are in full swing as people around the world welcome 2013. As many individuals dedicate their lives to eating healthier and working out it's no surprise that sleep health is also a concern that people want to resolve. While there are certainly a number of factors that influence whether or not a person is getting a restful night's sleep, one of the leading sleep interruptions is snoring. This year, many sleepers are opting to kick their snoring habits once and for all.
To help accomplish the goal ending snoring, a number of people are turning to the VitalSleep Anti-Snore Mouthpiece. This snoring device serves people by opening the airway to provide sleepers with an appropriate breathing pattern. The dental device reduces audibility and even eliminates snoring altogether. To use, the sleeper simply inserts the mouthguard for snoring into their mouth before rest and the device works to keep the jaw in place while the person sleeps. This fundamentally eliminates the capability of snoring.
Stopping snoring may seem like an uncommon New Year's resolution, but it is something that impacts a large portion of the population. Research indicates that over 40% of people snore. While snoring is certainly a common part of many people's lives, it can cause a number of unwanted side effects. For many, snoring can lead to interrupted sleep, drowsiness throughout the day, and even sleep apnea. Not to mention, snoring is a common problem for couples which can lead to irritability and embarrassment. Married couples especially complain of the interruptions of sleep because of a partner's snoring which can actually cause negative impacts on their relationship. Now, there is a product that offers an essentially effortless approach to stop snoring to bring peace to those couples that are adversely impacted by snoring. This will eliminate issues that not only affect the snorer, but those closest to them as well.
The VitalSleep snore guard is the product that many people are opting for as they strive to achieve their goals to eliminate snoring from their lives. VitaSleep has been cleared by the FDA and includes a 30-day money back guarantee. Additionally, the product comes with a one year warranty that includes free replacements for any reason for up to one year. The snoring mouthpiece is also offered in two sizes: regular for men and small for women. This makes the product widely available to larger demographic or snorers. This year Vitalseep will be there to help people accomplish their resolution to end snoring and have a peaceful night's sleep.
For more information about VitalSleep please visit: http://www.vitalsleep.com