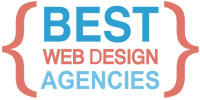 Fifty Best Web Design Companies Named by bestwebdesignagencies.com for January 2013
(PRWEB) January 08, 2013
The independent authority on web design and development, bestwebdesignagencies.com, has released their list of the fifty best web design companies for the month of January 2013. While thousands of web design companies are included in the evaluations each month, only the fifty best based on performance are included in the rankings each month. Businesses use the list to find their best fit web design company to help to create a professional look online to appeal to their visitors.
The Fifty Best Web Design Companies for January 2013 are:
1) Perfect Search Design
2) Clikzy Creative
3) Adlava, LLC
4) Web312
5) RazorIT.com
6) Glide Interactive, Inc.
7) Gorilla Placement
8) OneIMS – Integrated Marketing Solutions
9) 352 Media Group
10) Moonstone Interactive, Inc.
11) HigherVisibility
12) Customer Magnetism
13) Dotlogics
14) W3trends Inc.
15) 61designstreet.com
16) Web.com Search Agency
17) The Berndt Group
18) 1SEO.com
19) 2r creative
20) Holbi.co.uk
21) Pure Imagination
22) 2 Fish Group
23) Studio 7 Designs
24) 70plus2 creative design
25) HypeLife Brands
26) EffectiveUI
27) 809 Design Studio
28) Oxygen Productions
29) Pear Logic, LLC
30) Ace Web Design
31) Daddy Design
32) Off-Road Studios
33) 118id
34) NeboWeb
35) Volusion
36) Wevio
37) PINT, Inc.
38) Scopelink Inc.
39) Project6 Design, Inc.
40) Techno Blue
41) USA Web Solutions Inc.
42) NFINITY Web Solutions
43) Nowspeed
44) Ocular Concepts LLC
45) Atomic Design
46) Ydeveloper
47) MoreVisibility
48) Nautech IT Solutions, LLC
49) Creative Etc.
50) Miles Technologies
The process for evaluating and ranking the best web design services involves a meticulous look at how each company produces their designs through the use of five areas of evaluation. These five areas of evaluation include project analysis, design analysis, design quality, stock quality, and ease of access. In addition, customer references are contacted in order to gain insight on the quality of service provided to each client based on their own opinions and view of the service provided.
About bestwebdesignagencies.com
bestwebdesignagencies.com is an independent research firm with a dedication to providing a list of the best web design companies and web development firms in the industry. Through meticulous research and developed methods for evaluating and ranking companies, bestwebdesignagencies.com has provided customers of web design and development services with a great resource to find a top performing web design company. Evaluations are carried out by a specialized team of researchers who examine thousands of applicants each month. bestwebdesignagencies.com provides their rankings free of charge to companies and individuals searching for a quality web design firm or looking for other design and development services with updates being provided on the first of each month. The website also provides information and resources for those looking to learn more about web design and development services.
Web Design Companies interested in being evaluated and ranked can visit:
http://www.bestwebdesignagencies.com/rankings/web-design-agencies/apply-for-ranking
To view the rankings of the best web design companies visit:
http://www.bestwebdesignagencies.com/rankings-of-best-web-design-companies