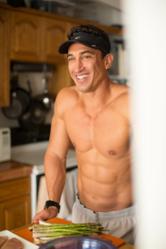 "70 percent of the battle is won in the kitchen."
(PRWEB) January 08, 2013
Want Sexy, Rock-Hard Abs? New Shredded Abs App Can Help
The new Shredded Abs App by Diego Sebastian is finally here. Sebastian, trainer to the stars and fitness cover model, is excited to be able to share his fitness training with anyone with a PDA and the drive to work hard. The Shredded Abs App, to be released this week, has all the instructional videos anyone would need to get six-pack abs. Just in time for the New Year, Sebastian's teaching warns against the starving and binging of seasonal feasts and treats. "Eat small meals, sample everything, and don't stop exercising!" sums up his thinking in The Shredded Abs App.
"With Shredded Abs you get a personal trainer inside of your smart phone with instructional videos on everything from diet and nutrition to detailed workout routines," says Sebastian. He pays special attention to food plans in his app, because "70 percent of the battle is won in the kitchen." On top of that, Sebastian believes that training is just as mental as it is physical, and The Shredded Abs App carries the right mentality required to get fit and stay in shape.
"At my heart, I'm an entrepreneur." According to Sebastian, anyone who wants to be a fitness model needs to have a business plan. He urges his clients not to wing it; they must set goals and have everything pre-planned. That dedication and devotion to self-health and fitness carries with it everything needed to get six-pack abs and stay fit. "My fitness career is a byproduct of my lifestyle," says Sebastian. "I never thought I'd be a fitness model." Anyone can get ripped and have a solid body, as long as they put in the work and dedication required.