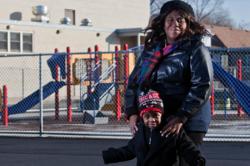 Unfortunately...CPS has failed to put a workable system in place. Sadly, these children, who are some of the most at risk children, fall even further behind.
Chicago, IL (PRWEB) January 08, 2013
Health & Disability Advocates, a national health, education and employment nonprofit based in Chicago, filed a formal class complaint alleging that the nation's third largest public school district, the Chicago Public Schools (CPS), fails to properly transition children turning three years old from Early Intervention (EI) services to early childhood special education. The complaint was filed with the Illinois State Board of Education after 2½ years of work to improve the system stalled.
For over 20 years, Health & Disability Advocates (HDA) has conducted program, training and advocacy work on behalf of people with disabilities and special health needs. Successful litigation includes landmark class actions such as Memisovski v. Maram, No. 92 C 1982*, which established better access to health care for more than 500,000 low-income children in Illinois. Yesterday's challenge aims to improve systemic barriers to access to education for very young children with disabilities.
The first five years of life are a critical for brain development. During this time, Early Intervention (EI) is vital to improving social, cognitive, communicative, physical, and adaptive abilities of children with developmental delays. Interruption of services can result in lost gains. "Early Intervention improves kindergarten readiness as well as long term health and human potential of children with disabilities. Families who successfully obtain EI for their deserving child can be irreparably harmed when services suddenly stop on a child's third birthday," says Amy Zimmerman, an attorney and director of HDA's Chicago Medical Legal Partnership for Children.
Zimmerman and other stakeholders worked collaboratively with CPS to improve accountability and coordination of specialized services for young children with special needs. Guided by the Mayor's Early Childhood Task force, they sought to create a system in which children with disabilities could avoid gaps in services when they turn three. The group worked with CPS' Office of Special Education and Supports to develop a plan of action to remedy the violations and made key recommendations to CPS Early Childhood Evaluation Advisory Group. CPS recognized the problem and made tangible headway to solve it, including securing an additional $4.5 million to fund ten dedicated early childhood evaluation teams. But since summer, progress stalled.
In writing about the complaint, the New York Times notes thousands of children are in the same boat. The named class members represent the interests of approximately 2200 eligible children residing in Chicago and their families who age out of EI services at age three each year. The filing alleges myriad ways CPS fails to take the steps necessary to work with families to support timely transition of toddlers with disabilities to preschool or other specialized services. Alleged examples include: CPS maintains bureaucratic loopholes, repeatedly fails to conduct timely special education evaluations and service provision, and has yet to implement planned improvements to systemic barriers. This situation denies countless students their legal right to a free and appropriate public education, despite a desperate need for specialized instruction and related services that could help them to advance academically and get on the path to wellness and economic security in later life.
"As a former teacher, I've seen firsthand the value of early learning and early interventions," notes staff member Dan Hausman, now a first year attorney and University of Virginia Powell Fellow placed at Health & Disability Advocates to work on issues faced by children seeking early childhood special education and services. "Plus, if we don't solve these problems early, we'll see them again down the road, when they're more intractable and harder to solve."
Zimmerman's program at HDA, the Chicago Medical Legal Partnership for Children, works with some of the most medically complex children and their families in the city. One of the first medical-legal partnerships in the country, the model program has a successful track record for using law to improve children's health and education outcomes. Zimmerman, who has spent her legal career focusing on issues that impact children, rues the necessity of filing the complaint. "Unfortunately, despite the best efforts of parents, advocates and staff at Child and Family Connections offices in Chicago, CPS has failed to put a workable system in place," she notes, "Sadly, these children, who are some of the most at risk children, fall even further behind."
Health & Disability Advocates is a national organization, based in Chicago, Illinois, that promotes income security, work and educational opportunities, and improves healthcare access and services for vulnerable populations, including children, people with disabilities and low-income, older adults. Its team of legal and policy experts provides a range of services including individual legal representation and custom trainings and technical assistance to consumers, businesses, service providers and state agencies.

U.S. District Court Northern District of Illinois Eastern Division