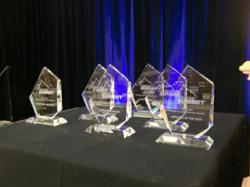 I am truly humbled by this great honor
(PRWEB) January 09, 2013
The Affiliate Summit was created in 2003 to facilitate networking among companies and to provide information and insights on the latest industry standards to both merchants and affiliates. The annual Pinnacle Awards are the most esteemed and competitive honors in the area of affiliate marketing.
Jara will be attending the annual Affiliate Summit West 2013 (ASW13) conference, which is being held January 13 through 15, 2013, at Caesar's Palace in Las Vegas, Nevada. "We are humbled to be nominated " said Jara, "We are looking for long lasting relationships based on trust and honesty" Jara added that the nomination is a result of treating affiliates with respect and honesty and as important partners as they are and who happened to work very hard but unfortunately been often taken advantage of by merchants.
For more information on Decorative Ceiling Tiles.net, visit http://www.decorativeceilingtiles.net or the DCT Facebook page at https://www.facebook.com/DCTiles.
For more information on the Affiliate Summit and the Pinnalce Awards, visit. http://www.affiliatesummit.com/
With headquarters in Florida and distributors and installers throughout the United States and select overseas locations, Decorative Ceiling Tiles.net is the online leader in the sales of decorative ceiling tiles.