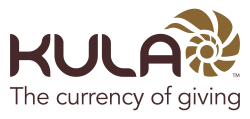 Kudos to KULA. They are not only innovators in the world of business, but in the way people give back.
Denver, Colorado (PRWEB) January 16, 2013
Bill Clanton, President of SBALoansToday.com, today recognized KULA Causes in an exclusive story featured on their website, for the innovative way in which it created a corporate philanthropy focused business that enables companies and their customers to work hand-in-hand for the benefit of important causes.
KULA Causes is rooted in the belief that more you give away, the wealthier you become. KULA is a B2B Cause-related Loyalty MarketingTM (CLM) technology solution that augments the traditional loyalty program model. It enables businesses to engage with their customers by empowering them to give to the causes they care about most. KULA's CLM platform also allows companies to measure the ROI associated with all giving transactions.
KULA was conceptualized in 2010 and officially launched in 2012. Despite its infancy the company is already making a tremendous impact. In one of its most successful launches to date, KULA inked a deal with the US carrier, JetBlue Airways. Through the online giving platform developed by KULA, JetBlue was able to raise nearly $820,000 for Hurricane Sandy relief efforts in just one month; and every dollar of it was the decision of their loyal customer base.
KULA founder, Gerrit McGowan, has an admirable goal of facilitating over $100 million in donations in 2013 by continuing to deliver innovation and being the 'go-to' for every major brand wanting to provide a loyalty program with a purpose. "We have been very blessed," McGowan said of their momentous success and the nearly 2.5 million causes in over 80 countries that have been helped through their loyalty programs.
"Kudos to KULA," said Clanton, SBALoansToday.com President. "They are not only innovators in the world of business, but in the way people give back. And, Gerrit McGowan is right. The more you give away, the more comes back to you and your business. KULA Causes is a shining example of just that."
SBALoansToday.com is accepting business success stories, inspirational stories of businesses and people going out of their way to help others, or innovative ideas that entrepreneurs have nurtured from a thought to a real business. Email them to Success@SBALoansToday.com for consideration.
About Small Business Funding Group
Small Business Funding Group owns and operates SBALoansToday.com, the authority on small business loans, and SBABizBanks.com. They are a Small Business Administration (SBA) Lender Service Provider (LSP) under contract with lender banks that make up their national network of Certified SBABizBanks Lenders™. The company helps businesses by navigating the small business loan process through one loan application that leads to access with banks ready to fund the SBA loan. The company is headquartered in Denver, Colorado with offices at 17th and California, and may be reached at 1-855-SBA-4-BIZ (1-855-722-4249) or by visiting SBALoansToday.com.
About KULA Causes
Founded in 2010 and based in Boulder, Colorado, KULA Causes helps companies create meaningful brand loyalty. KULA's loyalty technology, CLM™, is an innovative business-to-business SaaS application that enables companies to measure, engage, and reward their customers through democratized charitable giving. This puts the power of choice in the hands of customers, creating rich customer engagement and meaningful brand loyalty. With over 2.5 million charities in 80 countries to choose from, CLM reaches virtually every customer giving affinity—from local schools and places of worship to international development and aid organizations. CLM calculates and drives the ROI of corporate philanthropy, while increasing the visibility of nonprofits across the world. For more information, please visit http://www.kulacauses.com.