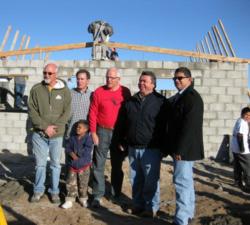 These people live in desperate circumstances. We want to give them hope through the help of our volunteers, and we also want our volunteers to enjoy an international experience.
Denver, CO (PRWEB) January 23, 2013
Bill Clanton, President of SBALoansToday.com, today announced that they are featuring a story on their website about how the volunteers of FHF Mexico, Inc spend their Christmases building homes for people in difficult circumstances. FHF stands for Families Helping Families, and travels to Puerto Penasco, Mexico every year to build not only homes, but lasting relationships.
Since Christmas 2011, the volunteers at FHF Mexico, Inc have built 6 homes. Founders Ralph Pew and Jared Parker lead the team of volunteers to build homes for families in Puerto Penasco, while also bringing fun, culture, and friendship to everyone who participates.
The families of Puerto Penasco are asked to help build the homes when the volunteers are there. They also work after the volunteers leave. Once a home is built, it is given to a family who has helped in the building process, and that family is asked to make charitable contributions to others over the course of several years. The house is eventually deeded to the family. The concept is called "Casas Perpetuas," which means "perpetual homes." The house and the family are always providing, always giving back.
"These people live in extremely desperate circumstances," shared Pew. "We want to give them hope through the help of our volunteers, and we also want our volunteers to enjoy an international experience. We work hard, but we also have fun, experiencing a new culture, enjoying different food and music. It bonds everyone together."
Justin Cracroft, Vice President of Credit and Underwriting at SBALoansToday.com, has participated with his wife and kids in FHF Mexico projects since 2006. He had mentioned the project to SBALoansToday.com's President, Clanton, who felt compelled to follow up on the project and write a story about it, hoping to give it more attention.
"This type of giving back is exactly what we've been touting in our other featured articles," said Clanton. "When we follow our passions, great things can happen, and I know how passionate Justin is about FHF Mexico."
SBALoansToday.com is accepting business success stories, inspirational stories of businesses and people going out of their way to help others, or innovative ideas that entrepreneurs have nurtured from a thought to a real business. Email them to Success(at)SBALoansToday(dot)com for consideration.
About Small Business Funding Group
Small Business Funding Group owns and operates SBALoansToday.com, the authority on small business loans, and SBABizBanks.com. They are a Small Business Administration (SBA) Lender Service Provider (LSP) under contract with lender banks that make up their national network of Certified SBABizBanks Lenders™. The company helps businesses by navigating the small business loan process through one loan application that leads to access with banks ready to fund the SBA loan. The company is headquartered in Denver, Colorado with offices at 17th and California, and may be reached at 1-855-SBA-4-BIZ (1-855-722-4249) or by visiting SBALoansToday.com.
About Families Helping Families, Inc
Families Helping Families, Inc. (FHF) is a 100% non-profit: a 501(c)(3) tax exempt corporation, with every dollar of every donation going directly to the materials expense of building homes for families in need in Puerto Penasco, Mexico (aka Rocky Point). The difficulties of home loan requirements in Mexico make it impossible for hard-working individuals and families to qualify for home loans. For those who qualify, FHF offers home ownership at a low monthly rate of about $200, for 11 years. This payment plan enables FHF to become a perpetual fund. To qualify for a home, individuals must be currently employed and willing to assist with the construction of their own home and other FHF projects. Find out more at http://www.fhfmexico.org.