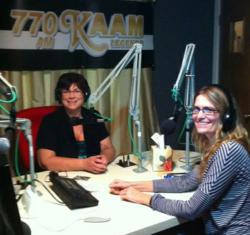 We are very excited to have [Mike] come on my board
Burlington, NJ (PRWEB) January 09, 2013
Burlington, NJ based Seeds of the Month Club retailer, Mike the Gardener Enterprises, has announced that they have signed a 6 month advertising partnership with local radio station KAAM 770 out of Irving, TX.
"We are thrilled that KAAM 770 wanted to work closely with us and our Seeds of the Month club," says Mike the Gardener owner, Michael C. Podlesny. "Our Seeds of the Month Club is a natural fit for their Irving, TX listeners."
The series of ads for the Burlington, NJ based company will air during KAAM 770's Farm Girls Organic Garden Radio Show which airs every Friday starting at 1:00 pm and is hosted by Garden Inspirations' Marilyn & Donelle Simmons.
"We are very excited to have [Mike] come on my board," says Marilyn Simmons, co-host for the Farm Girls radio program. "My co-host (Donelle), is a seed fanatic!"
Further plans are already in the works to have Mike appear on the show and talk vegetable gardening with Marilyn and Donelle. "That should be a lot of fun," exclaims Mike. "I can talk anyone's ear off for hours about vegetable gardening. To be a part of such a wonderful show is a tremendous honor."
While an exact date and time has not been set for Mike's appearance, those part of the show are speculating closer to spring and a kickoff to the season.