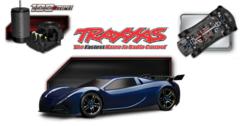 San Mateo, CA (PRWEB) January 09, 2013
Talbot's Toyland, the San Francisco Bay Area's premier independent toy retailer, is pleased to announce that it has been one of the few toy stores selected to carry the world's fastest remote-controlled scale race car, the Traxxas XO-1. This innovative race car, which was voted Best Electric On-Road 2012 and Best Innovation 2012 by RC Car Action Readers' Choice, makes the perfect holiday gift for young adults.
The Traxxas XO-1 comes fully assembled and includes a Traxxas/Castle brushless-electric motor called the Big Block, which is powered by a pair of Power Cell 3S 5000mAh lithium-polymer batteries. It generates 3.5 horsepower and can spin to 40,000 rpm. Measuring 27 inches long, the Traxxas XO-1 features an aluminum chassis frame and a heavy-duty all-wheel drive-power train with an extruded aluminum center driveshaft.
Beneath the car is a computer-designed undertray that integrates a front splitter and canards, a smooth undertray, and a rear diffuser, all of which work together to reduce drag and generate downforce. The wireless controller features a TQi 2.4GHz Intelligent Radio System with an internal antenna, a five-channel receiver, and an accessory docking base where users can connect an Apple iPhone or iPod Touch.
"We are excited to be able to offer this truly unique race car to our customers," said of Talbot's Toyland. "Come to Talbot's Toyland for an unforgettable, local toy experience. Our staff will be able to help you choose the right toy, whether it's for yourself or a special holiday gift for a child."
In addition to an huge selection of quality toys, games, activities and bicycles, Talbot's Toyland also provides gift wrapping, local delivery to the San Francisco peninsula, assembly service for toys and play structures and shipping services. For complete information about all Talbot's Toyland products and services, visit their website at http://www.talbots-toyland.com.
About the company:
Talbot's Toyland has been serving the bay area with toys, puzzles, games, etc. since 1953. In 1953, Betty and Lank Talbot started the Peninsula's and Bay Area's finest toy store, Talbot's Toyland. Today, Talbot's has grown to over 30,000 square feet, specializing in high quality unique children's toys, hobbies, bicycles, and baby toys. Talbot's has become a destination for children of all ages. With an emphasis on superior customer service, knowledgeable sales staff and a broad selection of toys, Talbot's has helped dreams come true for over fifty years.