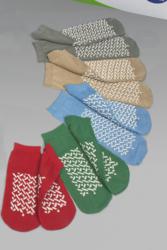 Orangeburg, NY (PRWEB) January 10, 2013
Dynarex Corporation, a leading manufacturer of a broad range of medical products located in Orangeburg, NY, is pleased to introduce Double Side Slipper Socks. Dynarex puts their best foot forward with this new double sided slipper sock. These slipper socks are a great way to keep your feet warm and dry inside. The anti-skid surface provides enough traction to keep you from sliding on any surface. Additionally, the double sided version makes it easy for any patient to slip these socks on and be up and walking in their hospital or Nursing Home environment comfortably and safely.
They are very cozy to wear and are made of stretchable construction and are available in a low-top design. The elastic band helps ensure a snug fit. They are a lightweight and come in five sizes (S, M, L, XL and XXL) all in a variety of cheerful colors. Dynarex also offers Hard Sole Slipper Socks providing more variety to hospitals, nursing homes, long-term care facilities and retirement homes. These Hard-Sole Slipper Socks have slip-resistant treads to prevent accidental falls. You are sure to stand firmly on your feet with either the Double Side or Single Sided Slipper Socks or if you prefer; the Hard Sole Slipper Socks.
Dynarex offers a broad range of patient care products such as disposable, sterile scalpels, razors, medicine cups & drinking cups, tongue depressors, bibs & aprons, stable & suture removal kits, a minor laceration tray and IV start kits just to name a few. For market segment product listings, go to the Dynarex website for more information.
Dynarex Corporation continues to lead the industry with medical disposable products servicing many different market segments around the world. Some additional product categories that Dynarex offers are: antiseptic products, incontinent care, diagnostics, urological and respiratory products, personal protection, gloves, wound care, emergency first aid and more! Dynarex is known for the highest quality, competitively priced medical products in the industry. For more information on the Double Sided Slipper Socks or to find the nearest Dynarex/Tillotson distributor, please contact our corporate headquarters at 1-888-335-7500 or go to our website at http://www.dynarex.com