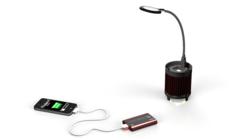 Our business model is designed to position Tellurex as the world leader in thermoelectric power generation and thermal management product manufacturers and engineered solution providers. Craig Tremp, President and COO.
Traverse City, MI (PRWEB) January 15, 2013
Tellurex Corporation of Traverse City, Michigan has launched its first internally engineered and designed consumer power generation product. The tPOD1, a very small electrical generator designed to provide excellent light and to recharge cell phones using only the heat of a candle as a power source, was introduced in December. Rich Harmon managed the program, taking it from early prototypes through the structure of a marketing campaign for the finished product. Based on this success and other successful initiatives for the company, Harmon has been promoted to assume the company's position of Program Manager – Power Generation. Mr. Harmon moves to this assignment from Director of Engineering. His 16 year tenure at Tellurex has included a variety of engineering and design leadership assignments.
Peter Schmitz, who has managed Tellurex sales for 5 years has been promoted to Program Manager – Thermal Management. Mr. Schmitz is the principal point of contact across the company's existing thermal management customer base and its many emerging prospects. He determines the projects to pursue and directs the product development process and application of company resources to all thermal products, both fully internalized initiatives and collaborative programs.
"We are particularly pleased that the right kind of technical knowledge and leadership skill has developed in-house, always working with enthusiasm as we have transitioned Tellurex from an excellent research and development company to a product-driven organization. Harmon and Schmitz have identified markets and market entry points and hit them hard with good, new ideas," stated Craig Tremp, Tellurex President and COO. Tremp further stated, "We intend to design and produce more power generation products that will feature light weight, robust structure targeted at carefully evaluated end user markets. On the thermal management side, a fully internalized end product strategy is possible, but we anticipate greater emphasis on working with customers on collaborative design and function."
Tellurex will maintain the value of its legacy business in thermoelectric materials and in the design of special purpose, advanced modules. "Much of the profit potential of module manufacturing has been compromised by high volume assembly in very low labor cost countries," Tremp noted. "However, we have terrific in-house expertise in both thermoelectric materials and module manufacturing practices that that we can deploy as a supplier and as a consultant. We intend to maintain those sources of value."
Tellurex Corporation is a Traverse City, Michigan-based company pioneering thermoelectric products and applications. The company develops its own products and also collaborates with others to advance its technology and product design into medical testing equipment, wireless sensors, thermally controlled enclosures and off-grid power generation. The company's customer base extends around the world.
For more information, please contact either Rich Harmon or Pete Schmitz at 231-947-0110.