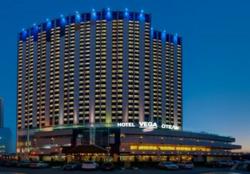 Best Tourist Awards 2012
Premium 4 star chain hotel in Moscow
London (PRWEB UK) 9 January 2013
Moscow will be a hot destination for 2013 sporting events, and the Best Western Vega Hotel & Convention Center is one of a few hotels in the capital that provides comfortable 4* accommodation at a reasonable price with English spoken across its friendly staff.
All rooms at the Best Western Vega Hotel & Convention Center are modern and offer 24-hour room service and an overnight shoe shine service to boot. Wi-Fi access is free throughout the hotel so guests can stay tuned to the rugby action when they leave the Olympic Stadium, relaxing in their room or in the bar. And for you first timers to Moscow, security at the hotel is excellent and efficient – so worry free.
The hotel itself is located in Izmailovo, a beautiful historic part of the city. The area has a lot to offer: there is a local Kremlin where people can buy authentic Russian gifts or take a walk in the beautiful Izmailovsky Park. It is a very short metro ride (Partizanskaya stop is a 2 min walk away) to the Red Square to be the typical tourist.
"We are delighted to welcome sports fans and those travelling on business from all over the world coming to watch the Rugby World Cup Sevens or the World Championship Athletics. Whether you have been to Moscow before, or a first timer, we will make you feel special," commented Valery Maximov, the General Director of the Best Western Vega Hotel.
"The Best Western Vega Hotel is a great hotel we often recommend our clients travelling to Moscow. It has excellent facilities – people will not be disappointed," stated Alexey Cherepanov, the General Manager at the Russian National Tourist Office based in London.
In addition to Moscow's trends of increased sports events, international conferences are also being staged more frequently. The Best Western Vega Hotel & Convention Center becomes a regular host to international conferences. The modern, high-tech equipment at the convention center can seat 500 delegates in the main hall, and has additional 14 rooms for smaller groups and business meetings – considered to be one of the best venues in Moscow to host events of any level.
The Best Western Vega Hotel and Convention Center is the winner of "Best Tourist Awards 2012
Premium 4-star chain hotel in Moscow" and the Moscow City Top Tourist Award "The Guiding Star 2012."
For more information please visit the website http://en.hotel-vega.ru/ or call +44(0) 207 985 1249.