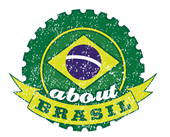 Get inspired for your next trip and learn more about Brasil!
Rio de Janeiro, Brazil (PRWEB) January 09, 2013
Recently, the comprehensive and professional website http://www.AboutBrasil.com was launched. The unique web concept aims at the foreign tourist as well as the foreign business traveller, providing each with in-depth information on Brazilian travel, business, news, safety and background information. It is remarkable that there was no such website yet, especially when you keep in mind that Brazil's economy continues to expand. Moreover, according to the Global Business Travel Association (GBTA), Brazil's business travel market is expected to continue to experience significant double digit growth over the course of 2013.
Until now, complete, up to date English language information on Brazil was hard to find on the internet. Often, topics do not go much beyond the beaches and the city of Rio de Janeiro. Online business information aimed at foreigners is even rarer.
The people behind AboutBrasil.com succeeded in filling this gap in information needs. Due to their love for the country and their personal (business) experience in Brazil, the information provided by AboutBrasil.com is always up to date and covers all topics interesting to the foreign visitor. Thanks to an extensive network of agents in Brazil, http://www.AboutBrasil.com is able to continuously monitor, improve and expand its website data. This makes it the number 1 online platform for advertisers aiming at foreign visitors to Brazil.
First of all, the website provides general information about the country itself. Besides hard facts, history and travel advice, it also provides in-depth information on culture, society and how to interact with Brazilians. In addition, AboutBrasil.com also has a special section with comprehensive safety advice. For instance, no other foreign sources are as thorough as http://www.AboutBrasil.com, where it comes to safety advice for next February's much visited Carnival celebrations in Rio de Janeiro.
The ten largest cities in Brazil and their surroundings are covered extensively, including suggestions on trips, accommodation, restaurants, nightlife, transportation and safety.
Investors and entrepreneurs will be delighted by the straightforward business information on legal matters, banking and investments. AboutBrasil.com offers the opportunity to entrepreneurs to present their business projects in Brazil, in order to attract investors.
Last but not least, besides Carnival, AboutBrasil.com covers all major events in Brazil, like the FIFA World Cup 2014 and the Summer Olympics 2016.
Pay a visit to http://www.AboutBrasil.com, get inspired and learn more about... Brazil!