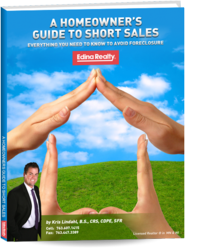 My aim is to give clients a technological advantage.
Blaine, MN (PRWEB) January 08, 2013
Edina Realty announced this morning that a short sale seminar will be hosted in Ramsey, MN later this week. The seminar will be hosted by Edina Realty's number one short sale agent Kris Lindahl. Lindahl plans to take the majority of the time to walk through the short selling process with the audience using past and current examples. Kris will also briefly take questions about specific banks and lenders following the presentation.
Kris Lindahl has created several online resources including three short sale calculators, a downloadable eBook, and a video series on YouTube. At the seminar later this week Lindahl plans to show the audience how to access and use these resources.
"Technology has become extremely important in real estate,"Kris Lindahl said, and continued,"My aim is to give clients a technological advantage." The scheduled Ramsey seminar is similar to several seminars that Lindahl and members of his team have held in the past couple of months that have almost all reached full capacity.
Call Kris and his team at (763) 607-1415 for more information. Visit the Minnesota Short Sale Calculator website to check eligibility. Download a complimentary copy of the eBook titled "A Homeowner's Guide To Short Sales" and check out the video series on YouTube.