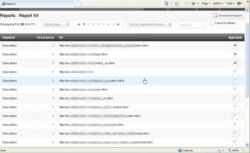 We are in an era of rapid publishing, where more individuals play a role in the public communications of a company than ever before.
New York, NY (PRWEB) January 09, 2013
Ironpaper, a web strategy agency based in NYC, has launched a new web application designed to help businesses and organizations cope with their regulatory compliance issues.
As monitoring communications can be an unorganized chore for organizations that have multiple online properties and presences, there is a pressing need for streamlining the process of monitoring website and blog networks. "We are in an era of rapid publishing, where more individuals play a role in the public communications of a company than ever before." said Jonathan Franchell, founder of Ironpaper "For many organizations, blogs and websites have only increased the need for improved monitoring and oversight capabilities to deal with the volume of communications that the web has inspired."
This need for improved regulatory compliance web monitoring is especially true for the banking and mortgage industries, where the government has imposed heightened regulation over all marketing communications.
Following the mortgage industry collapse, Ironpaper realized there was a need for efficient monitoring and analysis of corporate website network communications. Corporations need to closely monitor their advertisements and marketing copy across an expanding array of websites and blogs to ensure that their communications do not violate the law, including government-imposed regulations.
Their solution, IronCompliance, is a web-based tool that automatically scans a company's websites and blogs looking for language violations. Administrators schedule consistent run times in order to reduce the burden on a network. Ironpaper developed Proximity Search, a proprietary feature that locates defined keywords in relation to relative keywords on a webpage or blog. The system identifies and tracks such anomalies as false positives and changes over time in order to allow an editor or analyst to retrieve a filtered list of language violations - essentially finding many needles in many haystacks. Franchell explained, "Our goal is to provide an easy-to-use solution for improving corporate oversight over web communications. We know that many corporations are afraid of violating compliance laws or giving marketing teams too much creative freedom. Our solution helps organizations track potential violations occurring within web-based communications."
The tool can run on the cloud or behind a corporate firewall, which makes it easy for organizations to scan and monitor communications without burdening in-house IT and web development teams. IronCompliance maintains a log of violations for required reporting, to ensure compliance of all corporate messaging.
About Ironpaper:
Ironpaper is a web strategy and digital agency based in NYC. Ironpaper provides web and mobile strategy and production services to businesses, non-profits and brands. The work of Ironpaper includes websites, content management systems, applications, mobile apps and marketing campaigns for a range of industries and verticals.