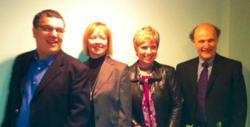 Joining BAASS allows us to stay consistent with our core principles: people, passion, and purpose. BAASS' impressive team allows for the depth and breadth of services our customers have come to expect.
Toronto, Ontario (PRWEB) January 10, 2013
BAASS Business Solutions Inc. (BAASS), a distinguished North American Sage ERP partner, today announced that it has joined forces with Richmond Hill based Equation Technologies (Equation). The merger enhances BAASS' presence within the Greater Toronto Area and Southwestern Ontario.
BAASS is a provider and implementer of accounting and business management software applications for corporate and community-based organizations within North America. BAASS is recognized by Sage as a partner committed to service excellence. An impressive track record of successful implementations as well as a vertical market strategy has earned BAASS industry recognitions such as Sage Business Partner of the Year, Sage President's Circle Awards, Accounting Today VAR 100 for several years, and Sage Chairman's Club for 2008.
"BAASS has a tremendous amount of respect for the Equation team and its strong leadership spanning over twenty five years within the Southwestern Ontario market," said Joseph Arnone, President of BAASS. "Their approach to solving problems, commitment to quality, and strong team of consulting and technical resources create a natural extension that aligns with BAASS."
Equation will add a team of application and technical consultants with diverse backgrounds that inject incredible value to BAASS' vertical industry expertise. Drawing on over twenty five years of experience, Equation has been recognized and rewarded with some of the industry's most respected awards. They have earned Sage's Customer Excellence Award for their high level of client satisfaction and have been appointed to Sage's exclusive President's Circle.
"BAASS has a distinguished reputation within the industry. Their commitment to the customer experience, focus on their people, and industry expertise are obvious in all our interactions with the organization," said Pat Wade, President of Equation. "Joining BAASS allows us to stay consistent with our core principles: people, passion, and purpose. BAASS' impressive team allows for the depth and breadth of services our customers have come to expect."
"This announcement reflects BAASS' commitment to growing their Sage ERP portfolio," said Tom Miller, Vice President, Channel Management, Sage Mid-Market Solutions. "BAASS boasts a gifted team of resources that add tremendous value to our mutual customers. Sage is confident in the leadership team and direction in which BAASS is headed."
About BAASS Business Solutions Inc.
BAASS is a full service technology firm with twenty-five years of industry experience. With a broad client portfolio, BAASS serves over 2,000 clients across North America and the Caribbean. With a past record of successful system implementations, BAASS has been recognized within the industry on numerous occasions. Recognitions include being ranked in Accounting World's Top 100 VARs, Accounting Technology Magazine's Pacesetters Award, two consecutive Business Partner of the Year awards from Sage Software Inc ., and nine consecutive Sage President's Circle awards for being a top performing Business Partner.
With an experienced team of IT and business application and design consultants, BAASS offers a comprehensive range of services including needs assessment, management consulting, system design and configuration, software training and technical support in accounting, ERP, CRM, e-business, custom web solutions, and specializing in Sage HRMS, Sage CRM, Sage 300 ERP, and Sage ERP X3 products.
About Equation Technologies
Equation Technologies has been a leader in the implementation of ERP technology, systems integration and advanced custom development since 1985. Equation provides solutions for financial and professional services, head office based organizations, and nonprofit organizations across a wide range of industries. Partnerships with proven technology leaders, including Sage, Deltek, and BambooHR allow Equation to help clients effectively manage finances, projects, people, customer relationships, and assets. The company has received numerous awards including Sage President's Circle, Accounting Today magazine's "Technology Pacesetter", and the Sage Customer Excellence Award for its high level of client satisfaction.