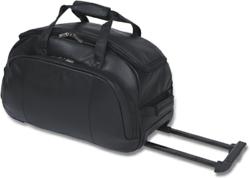 This holdall provides the first advantage of being on wheels
Kent (PRWEB UK) 9 January 2013
With over twenty years of manufacturing briefcases and bags, the Quindici brand name rolls on par with many of the top names in the luggage industry. The Quindici Wheeled Leather Holdall is only one of the many items that this manufacturer offers to consumers.
The holdall provides the first advantage of being on wheels. This is always handy for the sheer ease the wheels bring to manoeuvre the item. The retractable handle is adjustable to suit varying person heights. The holdall is ideal for taking on board an aircraft as it falls in line with the cabin sizes allowed by most airlines.Its black nickel look brings a clean sleek look to this piece of luggage. To gain access to the spacious interior the main compartments are "U" shaped. The touch of the soft leather makes it a brilliant bag to accompany anyone on either short trips as a weekender bag, as cabin luggage to avoid having to go in a check-in queue, or use it to carry the necessary extras on longer trips.
The brand is known for leather bags productions and the Quindici name is still treasured as a "must-have" for professional looking and practical bags all wrapped snugly in high quality leather.
Luggage Superstore's established site is in West Kingsdown, Kent. Their aim is providing competitive prices of the highest quality luggage and top calibre Customer Service for online luggage shopping. Luggage Superstore recommends Samsonite suitcases http://www.luggagesuperstore.co.uk/samsonite-luggage/b6
Trina Chee-a-kwai
Luggage Superstore
01474854666
Email Information