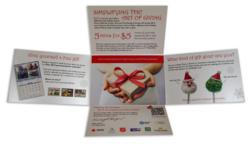 We were happy that so many people took the time to give back through the promotion.
Reading and Lancaster, PA (PRWEB) January 10, 2013
The Standard Group's holiday self-promotion, titled Simplifying the Art of Giving, was designed to help customers donate five dollars to their charity of choice on behalf of The Standard Group. A total of nine local charities participated including Mennonite Disaster Service, Parkinson's Disease Foundation, American Red Cross, Hospice of Lancaster County, The Salvation Army, United Way of Berks, United Way of Lancaster, United Disabilities Service and The Center for Autism.
As a result of the multi-touch and multi-channel campaign, The Standard Group secured 427 donations to the charities in the amount of $2,135. With a direct mail response rate of 28% and a charity donation response of 63%, The Standard Group was delighted in getting others to donate to a worthy cause and to bring awareness to these wonderful local charities.
"We were happy that so many people took the time to give back through the promotion," stated Scott Vaughn, CEO of The Standard Group. "This pinnacle industry award is a testament to our cross media team's talent in delivering successful integrated and personalized communication across multiple channels and in driving engagement."
The PODi Best Practices Award is a prestigious award recognizing innovation in digital printing, cross media and relevant direct marketing. With the win, The Standard Group will be receiving its award and will be presenting its solution at the next AppForum digital printing and direct marketing conference (http://www.AppForum.org) on Tuesday, January 29th, 2013 at Planet Hollywood in Las Vegas.
Tom Veitch, President of Digital Operations at The Standard Group acknowledges, "Communication is becoming ubiquitous, variable and trans-promotional." Tom continued, "We wanted to reflect the multi-channel aspect in our holiday promotion. And to make such an impact on our customers and now recognized by the industry and our peers is the ultimate reward."
About The Standard Group:
Founded in 1895, The Standard Group is an integrated communications and print leader located in central Pennsylvania. The company strives to simplify the art of communication for its customers by understanding their business and needs and helping them deliver their message to the marketplace via the best channel, whether through total print, digital media, personalized marketing or mailing and fulfillment services. The company has a rich tradition of excellence and an unwavering commitment to customer service. Their experience with variable data, web-to-print and 1:1 marketing technologies spans a unique and varied client base ranging from small, non-profit organizations to large Fortune 500 companies. For more information on The Standard Group, visit http://www.standardgroup.com.
About PODi:
PODi is a vendor neutral industry initiative with hundreds of member companies, including Executive Board members EFI, HP, Pitney Bowes and Xerox. The organization's goal is to drive demand for marketing applications powered by digital print and help members build successful digital printing and relevant marketing businesses.