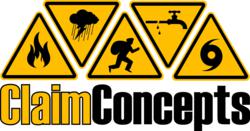 The insurance Company Adjusters are paid and trained by the insurance company they work for, whose best interest you think they have in mind?
Toms River, NJ (PRWEB) January 10, 2013
Hurricane Sandy may be old news to the rest of the country but for the victims, the suffering continues. Most would assume that if you are insured you will be paid and life will be back to normal, unfortunately many are finding that dealing with their insurance company is a catastrophe in and of itself.
Claim Concepts is a New Jersey Public Adjusting firm with vast experience in catastrophes similar to Hurricane Sandy. Their number one goal with all clients is to fight to recover the maximum claim settlement available under their insurance policies. "The insurance company adjusters are paid and trained by the insurance company they work for, whose best interest you think they have in mind?" asks Greg Roover, the President of Claim Concepts. "As Public Adjusters we are the only adjusters that exclusively represent Business and Homeowners to ensure they recover every last dollar they deserve for their loss."
New Jersey Public Adjusters can get involved at any point in the claim process and typically charge a contingency fee which is based on a small percentage of the claim proceeds. "If you have already been paid by your insurance company, we can still assist you in obtaining the maximum settlement for your claim and we only charge our fee on the additional payments recovered," says Roover, "it is a win-win and we only get paid when you get paid!"
The big insurance companies handle these types of claims on a daily basis and for most people they have few if any insurance claims in their lifetime, this fact gives a huge advantage to the big insurance companies during the claim process. Utilizing the services of a licensed and qualified public adjuster will level the playing field and ensure the maximum claim recovery. "Attempting to handle these types of insurance claims on your own will make the average person crazy. This is what we do day in and day out, we know how to get results!" says New Jersey Public Adjuster Greg Roover.
The Team of Public Adjusters at Claim Concepts have experience in assisting well over 1000 policyholders in their recovery after a catastrophic loss. For more information on Claim Concepts and their Public Adjusting Services visit http://www.claimconcepts.com or email greg(at)claimconcepts(dot)com.