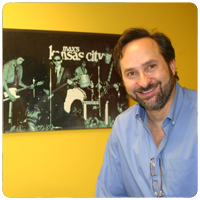 Morristown, N.J. (PRWEB) January 08, 2013
FOR IMMEDIATE RELEASE
GráficaGroup Hires New Creative Director
GráficaGroup – a results-driven, New Jersey-based, multichannel marketing and advertising agency that uses innovative thinking to help businesses forge and retain lasting and profitable customer relationships – announced today that it has hired Mark Drossman as co-creative director.
"We are thrilled to have someone of Mark's caliber join our leadership team. His breadth of experience and creative chops, combined with our expertise at data-based marketing, makes for one potent mix!" said GráficaGroup president and CEO Debra Taeschler.
Drossman was a co-founder and the creative head of extrovertic, a consumer healthcare agency in New York City and Cambridge, Mass. The agency led the launch of Vertex Pharmaceutical's blockbuster INCIVEK hepatitis C treatment, which was the fastest Rx brand ever to reach $1 billion in sales. He sold his stake in the agency at the end of 2011 to spend time on some entrepreneurial projects and return to his roots of working across all channels and categories.
For more than a decade prior to founding extrovertic, Drossman was a senior partner, creative director at OgilvyOne New York, leading the acquisition and retention creative for many of the agency's major accounts, including the entire portfolio of American Express cards, OPEN, Ameritrade, Time Warner Cable, the American Red Cross, and FM Global commercial property insurance.
His work has been highly awarded for both creativity and performance.
"I was looking for a place where I could do great work with smart, passionate people across a more diverse range of industries," said Drossman, adding, "I never expected I'd find it right down the road from my home!"
Drossman lives with his wife, Julie, and daughter Emily in Mendham, N.J. Another daughter, Hannah, is a junior at Parsons, the New School for Design, and a third, Sophie, is a freshman at the University of Delaware.
About GráficaGroup
Celebrating 27 years in business, GráficaGroup is an innovative, award-winning, results-driven, multichannel agency that enables clients to establish and nurture strong, meaningful relationships with customers across all categories. Clients include Fortune 500 and mid-sized B2B and B2C companies such as AT&T, Avaya, Century 21 Real Estate LLC, Horizon Blue Cross Blue Shield of New Jersey, Jackson Hewitt Tax Service, KPMG LLP, Morgan Stanley, PSE&G, Summit Medical Group, Trane, Weichert, Realtors, and Wells Fargo Home Mortgage, as well as public sector and not-for-profit organizations. For more information, visit http://www.grafica.com.
###
Media Contact: Adrianna Taeschler
Phone: 973-309-7522
Email: ataeschler(at)grafica(dot)com