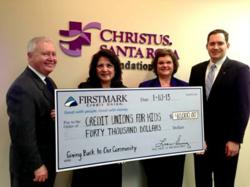 "Credit Unions for Kids is the coming together of many individuals who share the same concern – to help children and their families in perhaps their greatest time of need." -- Leon Ewing, CEO Firstmark Credit Union
San Antonio, Texas (PRWEB) January 31, 2013
Firstmark Credit Union presented a check for $40,000 to the Children's Hospital of San Antonio. "We are honored to make this donation to Children's Hospital of San Antonio as it truly a reflects the generosity of our employees, members, and their families," said Leon Ewing, CEO Firstmark Credit Union.
The money was collected during 2012 through a variety of fund raising initiatives supporting Credit Unions for Kids (CUFK).
Credit Unions for Kids is a nonprofit collaboration of credit unions, chapters, leagues/associations and business partners from across the country, engaged in fundraising activities to benefit 170 Children's Miracle Network Hospitals. "Our CUFK committee meets each month to come up with fun ideas. Some include our members, like drawings for special holiday baskets. Others are just for staff like our annual picnic and carnival," said Diane Bacon, the Credit Unions for Kids Committee Chair for 2012.
"We, along with other credit unions, have supported CUFK for close to 25 years," said Leon Ewing . "It embodies the credit union philosophy of, 'People Helping People,' and it is the coming together of many individuals who share the same concern – to help children and their families in perhaps their greatest time of need," said Leon Ewing, CEO Firstmark Credit Union.
"The Credit Unions for Kids Program to benefit the Children's Hospital of San Antonio, has proven to be a grand success not just here locally but in the whole United States! We are proud to be amongst the pioneers of this wonderful program which continues to raise much needed funds in support of the children and families we serve," said Gracie Martinez, Foundation Specialist/CHRISTUS Santa Rosa Health System and Director, Children's Miracle Network Hospitals/San Antonio Market.
Originating in 1985 in San Antonio, CUFK works in partnership with the Children's Miracle Network, a non-profit organization that raises funds for children's hospitals, medical research and community awareness of children's health issues.
About Firstmark Credit Union
Firstmark Credit Union provides financial services to anyone who lives, works, worships or attends school in Bexar County, as well as education-related employees in Bexar County and the 12 surrounding counties; and their relatives. Established in 1932, the Credit Union serves over 90,000 members and manages more than $700 million in assets. For more information, go to firstmarkcu.org.