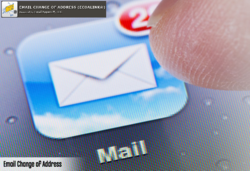 Email connects everything in your interactive marketing mix and a bad email address will flaw the best interactive marketing strategy. We can ensure you stay connected with your valued customers
Marblehead, MA (PRWEB) January 14, 2013
Email Append® LLC, the leading provider of consumer and business email data solutions, received trademark approval for ECOALink®, formally identifying and distinguishing their industry leading email change of address service.
Tim Swigor, Founder and President of Email Append® LLC says, "This approval reinforces our company's leadership position and brand in the marketplace. Years ago marketers worried about not having enough valid email addresses to communicate to, now they worry about changed and invalid emails addresses because a bad email address will impact their overall communication ROI and sender reputation. Our ECOALink® service provides them a great solution to stay in touch with their customers and prospects".
Companies are spending more effort, resources and money to reach their customers and prospects online, more specifically, via email. Whether your email communication is for marketing, eBilling, operational or alerts, all of your time, effort and investment in capturing and maintaining a valid email address are lost once it turns bad.
Swigor says, "We have been providing email change of address service for years and due to ever increasing client requests for this service, we've created a separate informative site, http://www.emailchangeofaddress.com and product, ECOALink® all under the Email Append® LLC brand." Swigor continues, "Let's face it, email connects everything in your interactive marketing mix and a bad email address will flaw the best interactive marketing strategy. As your trusted email change of address source, we can ensure you stay connected with your valued customers."
ABOUT EMAIL APPEND® LLC:
Since 1999, Email Append® LLC has been providing comprehensive email information and solutions enabling marketers to cost-effectively improve their email programs and to increase their marketing reach. Email Append® LLC offers immediate, direct and measurable email data solutions which becomes the backbone foundation of other digital and online channels. While email is maturing it is still a very effective marketing communications channel and will remain a powerful force in marketing and our lives.