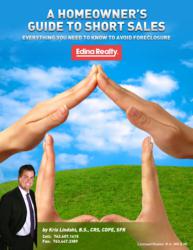 An agent that has a strong technological advantage is the way you want to go.
Blaine, MN (PRWEB) January 08, 2013
Kris Lindahl of Edina Realty led a short sale resources seminar in Spring Lake Park, MN yesterday afternoon that saw full attendance. Lindahl is Edina Realty's number one short sale agent. At the seminar Lindahl showed the audience how to access and use several available resources. After the presentation of resources Lindahl took questions from the audience regarding general short sale options and specific banks and lenders.
Lindahl pointed out the first step in the process is to find the right agent. "An agent that has a strong technological advantage is the way you want to go," Lindahl explained. He continued to explain that he has access to exclusive real estate software for buying and selling homes. The meeting was part of a larger campaign led by Lindahl and his team to relay information to the public that was previously known only to real estate professionals.
Kris is the recent recipient of the Chairman's Award, the highest honor an agent can receive, from Edina Realty again for excellence in sales and sales volume. "My success can be credited to hard work and a technological expertise that gives me an advantage over other agents nationwide,"Lindahl said when asked of his success at the seminar.
Call Kris and his team at (763) 607-1415 for more information. Visit the Minnesota Short Sale Calculator website to check eligibility. Download a complimentary copy of "A Homeowner's Guide To Short Sales" and check out the short sale video series on YouTube.