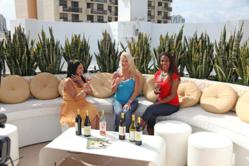 What we've found is that the price points for "Green" products could often be considered luxury
Miami, FL (PRWEB) January 15, 2013
These are the best trends in "Green" and eco-friendly products. Planet Fashion TV, the syndicated TV Show and Online Magazine sent a team of experts and researchers out to find compelling and cool "Green" brands and products. The products will be in a recently launched monthly featured story on the best new trends in green and sustainability. It will be broadcast nationally online and on local affiliate TV stations. Some products are so unique they could possibly be game changers in the market. Every month Planet Fashion TV will release a list of trending picks in every category, including beverages, apparel, health, cosmetics, energy, electronics and luxury. Yes luxury products have even gone "Green". Speaking of luxury the show's producer, Celia Evans thinks that the same demographic of people that are interested in luxury are interested in sustainability. "What we found" says Evans, "was that the price points for "Green" products could often be considered luxury. Also the current trends lean towards being open to alternative health options, and Eco-sustainability. Its fashionable and a lot of the products and brands that we've chosen go beyond being "Green" they're just amazing!"
Here's our January picks:
1. Bamboo Charcoal Wellness Products by "The Healing Tree" Company. Clothing made from Activated Bamboo Charcoal for healing properties.
2. Frey Vineyards is America's Pioneering Organic Winery. Organic, Vegan, and Bio-dynamic wines.
3. Desert Essence is an organic personal care brand founded in 1978, offering body, skin, hair, and baby care. We recommend the The Gentle Nourishing Organic Cleanser.
4. Nutiva's Organic Chia Seeds. The best chia seeds we've found on the market.
5. Herb Pharm a liquid herbal extract company. Herbal Breath Tonic in Peppermint contains the extracts of certified organic herbs of Peppermint, Cinnamon, Ginger and Clove, all of which are guaranteed free of synthetic pesticides, herbicides, and nasty chemical solvents. The hands down strongest breath freshener you will ever come across.
6. Earth Circle Organics is a raw foods importer, distributor and manufacturer. The entire product line is first class. Its hard to pick one thing that's the best. From the chlorella and spirulina powders to the cacao butter, to the goji berries. It's all fantastic.