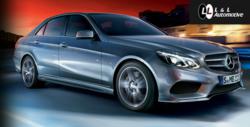 New Merceced E-Class 2013
Stevenage, Hertfordshire, London, UK (PRWEB UK) 10 January 2013
Building on the strengths of its phenomenally successful predecessor, the new E-Class debuts a striking new look and benefits from advanced new engines and assistance systems that are designed to maintain the model's leading position in the fiercely competitive luxury segment.
Instantly identifying the new Mercedes E-Class is a fresh front-end design, which follows the latest Mercedes-Benz design idiom but which also maintains the classic design elements of the E-Class. Notably, the partial LED headlamps are new single lens units that replicate the traditional "four-lens" look of the E-Class, which can also be upgraded for the first time to full LED specification, and there are fresh bumper and bonnet designs to complement the new sporty radiator grille with its central 'star'. The rear end has a new bumper and LED tail lights to match.
The changes beneath the sleek exterior of the new E-Class are even more impressive and extensive. Along with a subtly revised, high-quality interior that amongst other features includes a new instrument cluster and multifunction steering wheel, the new E-Class offers a choice of four different suspensions, cutting-edge new four-cylinder petrol engines and a total of 11 new or optimised driver assistance systems from the forthcoming new S-Class.
Featuring the world's first use of the stratified lean burn process in combination with exhaust-gas turbocharging and external high-pressure exhaust gas recirculation, the duo of new four-cylinder BlueDIRECT petrol engines in the E 200 and E 250 Saloon models return 48.7mpg (combined) and CO2 emissions of only 135g/km. Both saloons can sprint from 0-62mph in under eight seconds, already meet the EU6 standard required from 2015 and, like all other models in the E-Class range, boast ECO start/stop technology. As well as powerful, refined and efficient diesel and petrol engines, the new E-Class range also includes the Hybrid Mercedes E 300 BlueTEC hybrid that with its four-cylinder diesel engine and electric motor returns 69mpg (combined) and emits CO2 emissions of only 109g/km – making it one of the most economical models in its class.
The new E-Class showcases how Mercedes-Benz merges comfort and safety under its new 'Intelligent Drive' heading. Debuting advanced systems that will feature in the new S-Class, the latest E-Class uses state-of-the-art sensors and a major breakthrough is its new Stereo Multi-Purpose Camera. This camera has two 'eyes' which produce a three-dimensional view of the area up to circa 50 metres in front of the car, relaying the data of what it detects to the various safety-enhancing systems that can be specified with the new E-Class, such as the Brake Assist system BAS PLUS with Junction Assist that is able to identify crossing traffic and pedestrians and boast the braking power applied by the driver accordingly. Standard systems include COLLISION PREVENTION ASSIST that helps to lower the risk of a rear-end collision and ATTENTION ASSIST, which monitors a driver's awareness and alerts them to when they need to take a break.
Mercedes-Benz Hertfordshire Retailers are now able to take orders for the new E-Class.
-END-
Author: David Newman - Digital Marketing Executive
About Mercedes-Benz Hertfordshire - L & L Automotive
L&L Automotive is the driving force behind a dynamic retail network aimed at enhancing sales and after sales services for the region's existing and prospective Mercedes-Benz, AMG and smart customers.
Encompassing retail outlets in Bishop's Stortford, Hertford and Stevenage, the group is operated by L&L Automotive – a company boasting a lengthy and successful history.
L&L's Mercedes-Benz businesses moved into Hertfordshire in July 2002, when it was selected as one of Daimler UK's key business partners in establishing a revitalised national retail structure.
L&L Automotive. is a company registered in England and Wales with company number 4415393
VAT No. 794 6047 92
Mercedes-Benz of Stevenage : +44(0)1438 737800
Mercedes-Benz of Bishops Stortford : +44(0)1279 719333
Mercedes-Benz of Hertford : +44(0)1992 514444