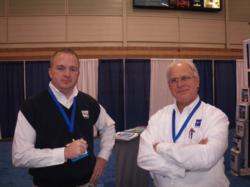 Natare will be featured in booth #C302, in the Commercial Exhibit Venue."
Atlantic City, New Jersey (PRWEB) January 11, 2013
Known for their stainless steel pools, spas, and large-scale aquatic filtration systems, Natare will be featured in booth #C302, in the "Commercial Exhibit Venue" of the trade show. There they join hundreds of other companies and organizations, networking with over ten thousand industry professionals.
Natare plans to display miniature replicas of their stainless steel pool walls, as well as samples of their exclusive GPM grating, and Natatec PVC Pool Lining Systems. In addition, members of Natare's expert staff will explain the company's newest designs and engineering advancements.
One major product focus will be Natare's MicroFlo Vacuum Sand Filters, which meet the rigorous requirements and government regulations for commercial pools. These large-scale filtration systems are ideal for commercial pools and waterparks. They are engineered to achieve ideal water clarity while lowering water and energy consumption.
Natare has appeared at the Atlantic City Pool and Spa show several times, the most recent in 2011. Natare often exhibits at the largest national and international trade shows, and Atlantic City hosts one of the largest pool and spa shows on the East Coast. An extensive library of Natare's literature will be on hand for aquatic experts wanting more technical details or product specifications.
About Natare Corporation:
Headquartered in Indianapolis, Natare Corporation designs, builds and installs equipment and systems for swimming pools, aquatic facilities and water features around the world. Natare provides stainless steel pools and spas, PVC pool linings, gutter systems, moving bulkheads, filtration and mechanical systems, as well as consulting and technical expertise. Learn more at http://www.natare.com.
# # #