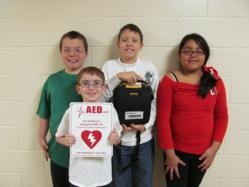 Brentwood, TN (PRWEB) January 08, 2013
As part of their 100 AED (Automated External Defibrillator) Giveaway, AED.com recently donated a Lifepak CR Plus AED to Brandon Elementary School. Michael Jones wrote to AED.com on behalf of Owen, his 10-year-old son who attends Brandon Elementary School. Owen was born with a congenital heart defect called Hypoplastic Left Heart Syndrome and has endured four open heart surgeries before the age of two. Owen helps to continually raise money for heart research and creates awareness through his Facebook page, The Half Hearted Hero. He devotes many hours to the community and the American Heart Association educating the public about heart disease and the precautions they can take.
AED.com knew right away that Owen and Brandon Elementary School would greatly benefit from this donation. "We received thousands of applications for the donations. I personally read the letter from Michael Jones and immediately went to The Half Hearted Hero Facebook page", said Blaire Czarniecki, Sales Support Administrator for AED.com. "After I saw the work Owen has been doing to spread awareness and his precious outlook on life, I knew that his school, Brandon Elementary, was the perfect fit for an AED donation."
Brandon Elementary School is part of a small school district totaling 450 students, preschool through 12th grade. Understanding the importance of implementing an AED at the school, Owen's father was extremely grateful. "This was truly a blessing not only for the school, but for our family as well," commented Jones. Administrators at Brandon Elementary were ecstatic as well. "Words cannot explain how happy I am about this donation" added Katy Neumann, Principal at Brandon Elementary.
AED.com is located in Brentwood, TN and serves over 20,000 customers in all 50 states and over 40 countries worldwide. For more information, please visit: http://www.aed.com/