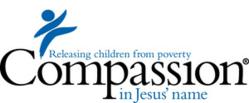 "It is humbling to see what our dedicated sponsors and donors are enabling us to achieve."
Colorado Springs, Colo. (PRWEB) January 08, 2013
Compassion International has been listed among the largest U.S. charities according to three different publications, including Forbes magazine. With an 8.5% revenue growth last year, Compassion International holds the number 15 spot on Forbes' Largest US Charities list.
In order to determine the top 100 U.S. charities, Forbes uses a rigorous methodology that includes the amount of private donations, charitable commitment, fundraising efficiency and donor dependency. With over $550 million in revenue, Compassion International scored strongly in each area, proving that it continues to operate as one of the biggest and best charities in the United States.
"It is humbling to see what our dedicated sponsors and donors are enabling us to achieve," said Dr. Wess Stafford, Compassion International president and CEO. "Because of their tremendous generosity, Compassion continues to grow, allowing us to release more and more children from the brutal grip of poverty."
In addition, the annual Philanthropy 400 published by The Chronicle of Philanthropy lists Compassion International as the 23rd largest U.S. nonprofit and the 4th largest international charity and The 2012 NonProfit Times Top 100 lists Compassion as number 30 on their list of America's largest nonprofits. Just six years ago, Compassion was 63rd on the NonProfit Times list.
"As our economy has fluctuated over the past decade, one thing has remained consistent," says Mark Hanlon, senior vice president of Compassion's USA Group, "and that is the dedication of our sponsors and donors toward the cause of children in poverty. They understand that, while our economy dips and dives, the world's poorest are in a constant state of economic distress. And year after year, our supporters give out of their hearts to the children they support and get to know personally."
Compassion International has 10 global partners, in addition to the USA funding arm, and serves more than 1.4 million babies, children and university students in 26 countries throughout Asia, Africa and Latin America. Compassion has been recognized for superior financial integrity by several publications and financial accountability groups, including Charity Navigator, The Chronicle of Philanthropy and The American Institute of Philanthropy. In addition, Compassion is a founding member of the Evangelical Council for Financial Accountability.
About Compassion International
Compassion International is the world's largest Christian child development organization that permanently releases children from poverty. Founded in 1952, Compassion successfully tackles global poverty one child at a time, serving more than 1.4 million children in 26 of the world's poorest countries. Recognizing that poverty is more than a lack of money, Compassion works through local churches to holistically address the individual physical, economic, educational and spiritual needs of children—enabling them to thrive, not just survive. Compassion has been awarded eleven consecutive, four-star ratings by Charity Navigator, America's largest charity evaluator.