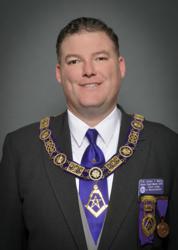 "I am looking forward to working with this talented slate of officers and ensuring our great fraternity continues its important work for our members and communities," said Richard J. Stewart, Grand Master of Masons of Massachusetts.
Boston, MA (PRWEB) January 08, 2013
Mr. James Tappan Morse of Oak Bluffs was installed the Deputy Grand Master of Masons in Massachusetts for 2013 in a ceremony performed at the fraternity's Boston headquarters. The Deputy Grand Master is the second highest ranking officer of the Grand Lodge of Massachusetts, comprised of 35,000 members in 232 lodges throughout the state.
Mr. Kenneth William Sprague Jr. of Malden, and Mr. Kenneth R. Blake of Andover, were installed the Senior Grand Warden and Junior Grand Warden, respectively. They are the third and fourth ranking officers in the state.
The Grand Lodge of Masons in Massachusetts is the oldest Grand Lodge in the Western Hemisphere and the third oldest in the world. It was chartered in 1733, following the establishment of the Grand Lodge of England in 1717, and Ireland in 1725. 2013 marks the 280th Anniversary of the Grand Lodge of Massachusetts.
A Grand Lodge is the governing body that ensures the activities of the lodges and members comply with its Constitutions and Regulations; it also maintains the uniformity of the initiation ceremony candidates experience when they become members.
Mr. Richard J. Stewart, Grand Master of Masons in Massachusetts and the presiding officer in the state, handpicked Morse to serve as Deputy Grand Master. He will assist the Grand Master and preside over the Grand Lodge during his absence for the next year. He is also the Grand Master ex officio should the Grand Master not be able to complete his term. Stewart, of Shrewsbury, began the last of his three one-year terms as the 87th Grand Master of Masons in Massachusetts.
Sprague and Blake were both elected in a state-wide ballot at the Grand Lodge's Annual Meeting on Wednesday, December 12th.
The following individuals were installed as District Deputy Grand Masters. Lodges in the Commonwealth are organized into 32 Districts, each lead by a District Deputy Grand Master who is the Grand Master's personal representative to the lodges in the district.
DISTRICT 1 Frank B. Gomes, Jr., Reading
DISTRICT 2 R.W. Edgar R. de Leon, Beverly
DISTRICT 3 R.W. James Giragosian, Watertown
DISTRICT 4 R.W. Amos F. Cutter Jr., Wakefield
DISTRICT 5 R.W. Lawrence E. Bethune, West Newton
DISTRICT 6 R.W. David J. Laronde, Norwood
DISTRICT 7 R.W. Stanley C. Gaw, Norwood
DISTRICT 8 R.W. Richard F. Jope, Randolph
DISTRICT 9 R.W. Allan J. Martin, Marblehead
DISTRICT 10 R.W. William Yanakakis, Ipswich
DISTRICT 11 R.W. James Antonopoulos, Haverhill
DISTRICT 12 R.W. Steven A. Burton, Billerica
DISTRICT 13 R.W. Scott T. Jareo, Dracut
DISTRICT 14 R.W. Douglas J. Ellis, Concord
DISTRICT 15 NORTH R.W. Paul R. Gaudet, Marlborough
DISTRICT 15 SOUTH R.W. Edward M. Iacovelli, Hopedale
DISTRICT 16 R.W. Leland F. Ross Jr., Plainville
DISTRICT 17 R.W. James M. Hardy, East Bridgewater
DISTRICT 18 R.W. Joseph C. DeNicola, Hanover
DISTRICT 19 R.W. Edmund L. Gordon, Mattapoisett
DISTRICT 20 R.W. David W. Catten Jr., East Sandwich
DISTRICT 21 R.W. Andrew C. Walker, Harwich
DISTRICT 22 R.W. Clifford P. Bohnet, Fitchburg
DISTRICT 23 R.W. H. Bradford White, Jr., Shrewsbury
DISTRICT 24 R.W. Daniel C. Barston, Auburn
DISTRICT 25 R.W. Leo D. Forget, East Brookfield
DISTRICT 26 R.W. William H. Paul, Orange
DISTRICT 27 R.W. John A. Mathews, Hadley
DISTRICT 28 R.W. Robert W. Allard, Springfield
DISTRICT 29 R.W. Scott A. Rogers, Westfield
DISTRICT 30 R.W. Kevin P. Hamel, Williamstown
DISTRICT 31 R.W. Kevin G. Foster, Huntington
A District Deputy Grand Master typically serves for two years.
Freemasons belong to the world's oldest and largest fraternity, which brings together men of every country, religion, race, education, income, and opinion and helps develop the bonds of friendship between them. Through a large variety of North American Masonic philanthropies, approximately $3,000,000 is given to charity every day, 70% of which benefits the public. During its initiation ceremony, which uses symbolism and allegory, members are encouraged to value principles and ethics and live their lives accordingly. By providing meaningful opportunities for fellowship, charity, leadership, and education, Freemasonry aims to "make good men better," and that its members will make their families, workplaces, and communities stronger.
The Grand Lodge of Massachusetts represents 35,000 members and more than 230 lodges throughout the Commonwealth. Founded in 1733 it is the oldest Grand Lodge in the Western Hemisphere and the third oldest in the world. For additional information, please call 800.882.1020, or visit MassFreemasonry.org.