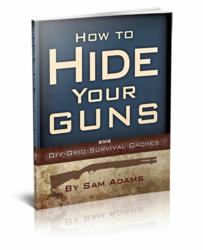 A person's right to own a firearm is important. I just feel as though, if you are going to own a gun, you should make owning a gun as safe as you possibly can. That's why we released this book. - Bill Heid
Thomson, IL (PRWEB) January 08, 2013
There are a lot of articles, gun laws and restrictions popping up all over the news these days as a result of some horrific tragedies in 2012. A self-reliance company called Solutions From Science offers a book to help gun owners keep their guns away from violent criminals. There is a lot of talk in the news right now about how to increase gun laws and protect people without guns, but there is not a lot of talk about how to help gun owners keep their guns out of the hands of criminals.
On December 23, 2012 The Journal News published an online interactive map detailing the names and addresses of residents of two New York counties that hold a pistol permit and have the right to own a handgun. This story has created a social media uproar about gun laws, regulations, legislation, etc. But the newsworthiness of this article is not the only fallout.
According to an article published by FoxNews, Bob Portenier, 65, a former burglar and armed house robber turned crime prevention consultant said, "That's one of the first things we'd check out—guns are on the top of the list of what you want to steal," he said. "They can walk out with a shotgun and a couple of handguns and sell them on the street for $300 or $400 a pop. They can sell them to a gangbanger who ends up killing someone."
Bill Heid, owner of Solutions From Science, believes that the Second Amendment of the Constitution is an important part of our culture. "A person's right to own a firearm is important. I just feel as though, if you are going to own a gun, you should make owning a gun as safe as you possibly can. That's why we released this book."
The book "Hide Your Guns" covers things like: Where to hide your guns so the bad guys will never find them, how to create a hiding place in plain sight, the places you should never hide your guns (under any circumstances), and when a safe isn't the solution. The book is meant to help gun owners maintain safe possession of their firearms without fearing that their guns will wind up in the hands of criminals and people who are not of sound mind.
The book is available through http://www.hideyourguns.com/?utm_source=PR&utm_medium=PR&utm_campaign=PR1813.