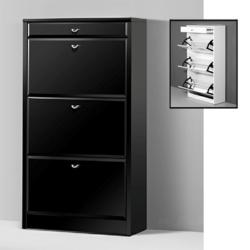 (PRWEB UK) 10 January 2013
UK's leading online furniture supplier FurnitureInFashion has launched a stunning and functional Napoli shoes storage cabinet. It is another addition to an already extensive hallway furniture range offered by FurnitureInFashion. FurnitureInFashion is one of the largest suppliers of hallway furniture in the UK and offers great and extensive range of shoe racks, shoe storage cabinets, umbrella stands, coat racks and other storage solutions. FurnitureInFashion offers unique and innovative designs in hallway furniture along with providing maximum storage capacity in sleek and contemporary designs. By incorporating the hallway furniture offered by FurnitureInFashion, homeowners can add personality, functionality and style statement in their hallways without cluttering the space.
The wonderful Napoli shoes storage cabinet by FurnitureInFashion is a wonderful furniture item and is a better choice for any hallway or living room. This stylish shoe cabinet is a great addition for hallway storage. This shoes storage cabinet is available in elegant white and beech wooden finish that can perfectly complement any type of home décor. Either its traditional or contemporary or modern home décor, Napoli shoes storage cabinet can make a perfect style statement in a hallway. The owner and Managing Director of FurnitureInFashion Asad Shamim said, "FurnitureInFashion knows what its customers want. Considering the increasing demand of hallway furniture, we are continuously updating our hallway furniture catalogue. Napoli shoes storage cabinet is another great addition in our hallway catalogue. We have used wooden as it can not only complement any décor but it also offers more durability. We hope to make great sales with this product"
Napoli shoes storage cabinet offers enormous space as it has 4 shoe compartments. It has one drawer where homeowners can store their socks and other items as well. The handles of the drawer and compartments have pull function for easy access. Mr. Asad said, "We have worked on every little detailing to make this beautiful shoes storage cabinet functional as well as stylish. The handles are durable and sleek pull function defines our modern and contemporary furniture vision."
With 4 compartments and one drawer, Napoli shoe storage cabinet by FurnitureInFashion can easily accommodate up to 24 pairs of shoes. Homeowners can organize their lives by storing their most frequently used shoes in this cabinet. This needful and tasteful shoe cabinet will make any home look great. Mr. Asad said, "FurnitureInFashion believes in making lives convenient. We know that people in busy mornings have to hassle through to find their favorite work shoes or matching shoes. To provide them with organization in style, we have launched this beautiful Napoli shoes storage cabinet. Now you can organize your home and life by incorporating this superb hallway item."
He also added, "By providing hallway furniture, we are offering people a chance to enjoy their goodbyes and welcome hugs as they wouldn't have to hassle around the place. With hallway storage solutions, you can organize your hallway space and say goodbyes in style."
Superb quality materials have been used in the making of this beautiful cabinet. It is just an ideal way to store all footwear and make home look more organized, clean and attractive. It can perfectly settle with existing home furniture and style of home decoration.
FurnitureInFashion offers largest range of hallway furniture including shoe racks, umbrella stands, shoes storage cabinets, coat racks and mirrors.
About FurnitureInFashion
FurnitureInFashion is a UK based online retail business. It supplies furniture items from its German based warehouse and has a showroom in Bolton, UK. The company provides everything from umbrella stand wall art and room dividers to bedroom, bar stools and computer tables. FurnitureInFashion offers excellent free delivery within UK and has a fantastic customer service as well. For further information and details about the sale, visit http://www.furnitureinfashion.net.
# # #