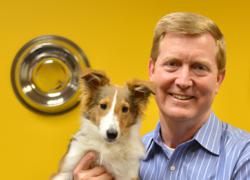 We are excited to leverage Steve's extensive knowledge and experience of the veterinary channel to better serve our partner veterinarians
Philadelphia, PA (PRWEB) January 09, 2013
Petplan pet insurance, America's top-rated pet insurance company, has named Steve Shell as its VP of Veterinary Channel Development. After more than 30 years of success working in pet health at companies like Pfizer Animal Health, Invervet/Schering-Plough and Merck Animal Health, Shell brings his skills and passion for pets to Petplan, one of the fastest-growing companies in America.
"We are excited to leverage Steve's extensive knowledge and experience of the veterinary channel to better serve our partner veterinarians," says Chris Ashton, Co-Founder and Co-CEO of Petplan pet insurance. "His commitment to pet health and the high degree of integrity that he brings to customer relationships are values that Petplan was founded upon. He's a proven innovative and resourceful leader whose savvy for managing a sales force is unmatched."
Ashton continues, "As a pet parent, Steve understands first-hand how important the role of the family veterinarian is to influencing pet health decisions, and as a seasoned executive in the veterinary science field, he understands how to provide partner vets with the level of customer service and genuine caring for which Petplan is well known."
Shell, who has held leadership positions in general management, business strategy, sales, marketing and customer development, was most recently the Vice President, General Manager of Merck Animal Health, where he was responsible for the Companion Animal Business Unit, which included the Small Animal, Equine and HomeAgain microchip businesses.
"I am eager to help develop Petplan's relationships with the veterinary community, ensuring we are working effectively in partnership with veterinarians to provide not only a superior pet insurance product, but also the best pet health information and education available to consumers," said Shell.
"I was really drawn to Petplan because of the focused, fun and energetic culture, the simplicity and transparency of our policies, and the committed and caring pet-loving people who work here," Shell adds. "I was impressed with Petplan as a leader in pet insurance and pet health information, and the consistently high ratings earned from policyholders. At Petplan, pets and people are at the center of everything we do. That is important to me."
ABOUT PETPLAN
Top-rated pet insurance provider, Petplan, is the only pet insurance company to have been included on Inc. Magazine's list of 500 fastest-growing, privately held companies in America. Petplan's fully customizable dog insurance and cat insurance policies provide coverage for all hereditary and congenital conditions for the life of the pet as standard, and meet the coverage requirements and budget for pets of all/any age. Petplan pet insurance policies are underwritten by AGCS Marine Insurance Company in the U.S. and by Allianz Global Risks US Insurance Company in Canada. The Allianz Group is rated A+ by A.M. Best (2011). For information, about Petplan pet insurance, visit http://www.GoPetplan.com, read the Petplan "Vets for Pets" Blog, or call 1-866-467-3875.