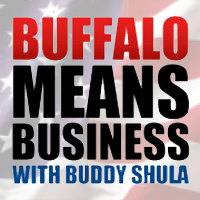 There's an entrepreneurial spirit in Buffalo that is putting this area on the cusp of greatness and I will feature four leaders of this movement each week on Buffalo Means Business
Elma, New York (PRWEB) January 09, 2013
Buddy Shula, a recognized radio personality in the Western New York area, has kicked off a new radio program titled "Buffalo Means Business." The new program will highlight local business owners and talk about how they are making it in Buffalo, New York.
Catch "Buffalo Means Business" with Buddy Shula interviewing Mark Andol, owner and creator of the Made In America Store, by clicking here! (Mark Andol's interview starts at 14:15)
Buffalo Means Business is an hour long radio program that talks to multiple business owners in the Western New York area about the struggles of owning a company and why they keep doing it. The radio host, Buddy Shula, is no stranger to being a radio host with a respectful past of radio programs. On their very first radio program, Mark Andol, owner and creator of the Made In America Store, was interviewed.
Mark Andol has a classic story of how overseas competition can easily destroy local business. In the interview, Mark Andol talks about how he had to lay off a third of his workforce in 2009 at his steel fabrication plant, General Welding & Fabricating, due to a Chinese supplier selling cheaper materials.
"We just couldn't compete," stated Mark Andol, owner and creator of General Welding & Fabricating and the Made In America Store. "The Chinese supplier was selling the materials cheaper than we could get them at cost."
Andol launched his Elma based store, featuring only products manufactured in the USA, in April, 2010, as a response to his frustration that American made goods are being ignored while cheaper and, many times, inferior products were being offered to consumers. The Made in Buffalo story has ignited a national discussion on domestic manufacturing, with Andol being featured on ABC World News, Fox & Friends, Associated Press articles, USA Today, and The Wall Street Journal.
"The store is a message to the American worker, the Active Duty Military Personnel and the Veterans in our nation," said Mark Andol. "We need to bring pride and quality back to this country. We can save this economy but it's up to us, the people, to do it."
Consumers and "Made In America" fans can listen to Buddy Shula's newest radio show, Buffalo Means Business on KB1520 Saturdays at 7am or by clicking here.
"There's an entrepreneurial spirit in Buffalo that is putting this area on the cusp of greatness and I will feature four leaders of this movement each week on Buffalo Means Business", states Shula. "We are bringing in the County Executive for our inaugural broadcast because he is the person who can best articulate for our listeners how they can participate in this new climate."
The Made In America Store is the only brick and mortar store that sells 100% made in the United States products from over 350 vendors. Consumers can visit http://www.MadeInAmericaStore.com or call 716-652-4872 to get more information or shop our catalog of over 3,500 items. Both Active Duty Military Personnel and U.S. Military Veterans receive a 10% discount every day. Followers of the "Made In America" movement can keep updated with the Made In America Store through Facebook, Twitter, Google+, Pinterest, FourSquare and even their own blog on Wordpress!
# # #