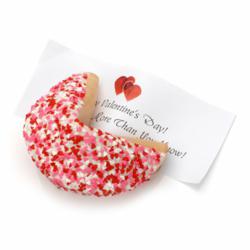 "A Giant Personalized Gourmet Fortune Cookie is the Perfect Valentine Gift and Greeting All In One!" ~Daria Artem, Chief Confectionery Officer
Canoga Park, CA 91304 (PRWEB) January 08, 2013
This Valentine's Day think outside the Cookie Jar- and send a unique gourmet gift to your Sweet Cookie- a Giant Fortune Cookie from Lady Fortunes . Always in good taste, these edible gifts will bring good fortune to your Sweetheart for Valentine's Day.
On the 1-ft long fortune inside each cookie you can personalize your message to say anything you want in a BIG BIG way! "Happy Valentine's Day to My Sweetest Cookie and My Greatest Fortune- You Make My Heart Crumble!"
Our gargantuan Valentine's Day cookies are dipped in your choice of White, Milk or Dark Chocolate as well as Caramel- we have something for everyone!
Join Lady Fortunes on our Facebook Page for special discounts all year round.
For those that are tongue tied or suffering from a touch of writer's block- never fear! Call a Confectionery Consultant and have one of our specialists help you write the perfect custom fortune!
Each Giant Gourmet Fortune Cookie comes beautifully wrapped in cellophane and tied with an exquisite ribbon to match the decor of the cookie before being hand packed in a lovely white gift box.
About Lady Fortunes:
Since 2004, Lady Fortunes has been a leading manufacturer of Gourmet Cookies, Confections and Gifts. Lady Fortunes' desserts have been enjoyed in the White House, at events at the Library of Congress, at the Emmy Awards®, during Oscar® after-parties, on the Ellen Degeneres Show, The Today Show, and have been featured in magazines from InStyle to Better Homes and Gardens. Lady Fortunes' products are available online and through upscale retailers including Dylan's Candy Bar, Macy's, Nordstrom, Neiman Marcus and Henri Bendel.