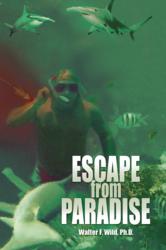 It's a thriller driven by ideas, and those are the best kind.
Honolulu, HI (PRWEB) January 10, 2013
Sometimes good intentions aren't good enough.
In his new psychological thriller Escape from Paradise, author Walter Wild explores a world of deception and cover-ups despite the best intentions.
"It's sort of this catch-22 when you're striving for something so relentlessly, you forget to think about what you're giving up to get there," says Wild.
Wild, a retired psychologist, also pulls back the covers of his industry in the story, which follows conflict between two psychologists.
Set against the backdrop of Hawaiian cliffs and seascapes, the protagonist uses murderous means to achieve an end, complicating what at first glance appears to be paradise.
The story, based on true events, also explores themes of absolutism and consequences.
"It's a thriller driven by ideas, and those are the best kind," says William Martin, New York Times bestselling author, about Escape from Paradise.
Escape from Paradise
By Walter Wild
ISBN: 978-1-4415-6427-6
Softcover retail price: $19.95
Hardcover retail price: $29.95
E-book price: $3.99
About the author
Dr. Walter Wild practiced psychology in a state hospital, private hospital and medical clinic before starting his private practice. He formally served as chairman of the Professional Standards Review Committee and president of the Hawaii Psychological Association. He earned his doctorate degree in clinical psychology from the University of Rochester, master's degree from Stanford University and bachelor's degree from Yale University. Born and raised in Hawaii, he continues to enjoy the seascapes and cliffs.