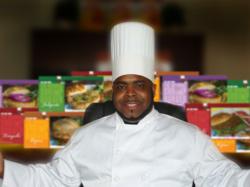 Sometimes, when you least expect it, an incredible business opportunity finds you.
Los Angeles, CA (PRWEB) January 08, 2013
Once considered a trouble youth, Shawn Davis is now considered "the one that got away" by Dallas Mavericks owner, self-made billionaire and Shark Mark Cuban. After pitching the panel of legendary entrepreneurs on ABC's Shark Tank, Davis popularly known as Chef Big Shake, shockingly walked away without a deal. However, while the doors of Shark Tank closed, the doors of numerous doting investors opened.
With Jeff Probst, Chef Big Shake will discuss his modest start as a dishwasher as well as the determination and drive it took to work his way up through the culinary industry's hierarchy to become head chef and eventually CEO. Be inspired! Check your local CBS Television listings for start times to hear this remarkable story.
The Original Shrimp Burger is high-protein, low in fat, a good source of Omega-3 fatty acids and available in five frozen varieties, including original, jalapeño, Cajun, teriyaki, and Chesapeake Bay flavor. In addition The Original Shrimp Burger, CBS Foods also offers lobster sliders, lobster pot pie, and lobster mac and cheese in their flavorful line of seafood fare.
###
ABOUT CBS FOODS, INC.: CBS Foods, which stands for "Chef Big Shake," was named after and founded by Shawn Davis, a man who worked his way up from restaurant dishwasher to chef to entrepreneur. After being passed up on the reality business show "Shark Tank," he received the funding he needed to take his business national. Today, his product line, which features five varieties of "The Original Shrimp Burger," is available in over 2,500 stores. His product line also includes lobster sliders, lobster pot pie, and lobster mac and cheese. To learn more about CBS Foods, visit the website at http://www.chefbigshake.com.