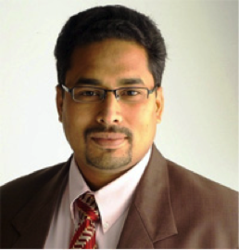 (PRWEB) January 10, 2013
i3 Software is making an addition to its leadership team with Sreenath Rupavatharam (aka. Sree) as CEO. Sree is joining the company effective immediately and will be responsible for taking it to the next level, building on the solid foundation and momentum already achieved by the i3 team in the 15 years since its inception.
Sree is an experienced senior manager in the IT industry with a track record of building long term relationships with top tier customers and partners across United States, Europe and Asia as a trustworthy service provider and a value added reseller.
Kumar Chaluvadi, the President of i3, said of Sree that "as CEO of i3 Software, Sree's considerable experience building large software and services businesses will not only accelerate growth in our core functions but will help us enter new areas. He will focus on expanding globally, identifying fast growing markets and increasing both the efficiency and quality of service. I strongly believe that finding someone with such an ideal skillset for this phase of our evolution is a major positive milestone for i3."
i3 Software is a unique company positioned to take powerful advantage of its latent potential. The company anticipates that Sree will bring to the table a great mix of leadership, inspiration, operational experience, technological breadth, and passion for employee and customer care. As an accomplished leader with a track record of working with high-growth software companies, he will be responsible for creating a high performance team and delivering the best-in-class solutions to i3's customers, thereby positioning the organization as a true business partner.
Regarding his new position, Sree has said that he looks forward "to taking i3 to its maximum potential while being fully cognizant of the macro and micro economic challenges involved."
"The lines differentiating brands have become blurry," he added, "but I believe we can distinguish ourselves by taking a closer look at our core competencies and arriving at a unique value proposition to our customers. Customer expectations have grown, but I believe we can meet them. Together with the team at i3, I look forward to building a brand of choice for the customers and an organization of choice for the employees."
About i3:
Established in 1997, i3 Software is a global IT Services & Consulting company providing IT solutions, system integration, customized applications and enterprise management services to Fortune 1000 companies. Their EMS offers a comprehensive portfolio of monitoring solutions to help simplify company infrastructure, support business continuity, and manage information efficiently during its lifecycle. In addition, i3 Software is oriented toward small- and medium-scale Property & Casualty Insurance carriers and MGAs. Their global delivery framework and certified workforce is dedicated to helping P&C carriers and MGAs streamline their day-to-day operations however possible.